Mass Production Gantry Machines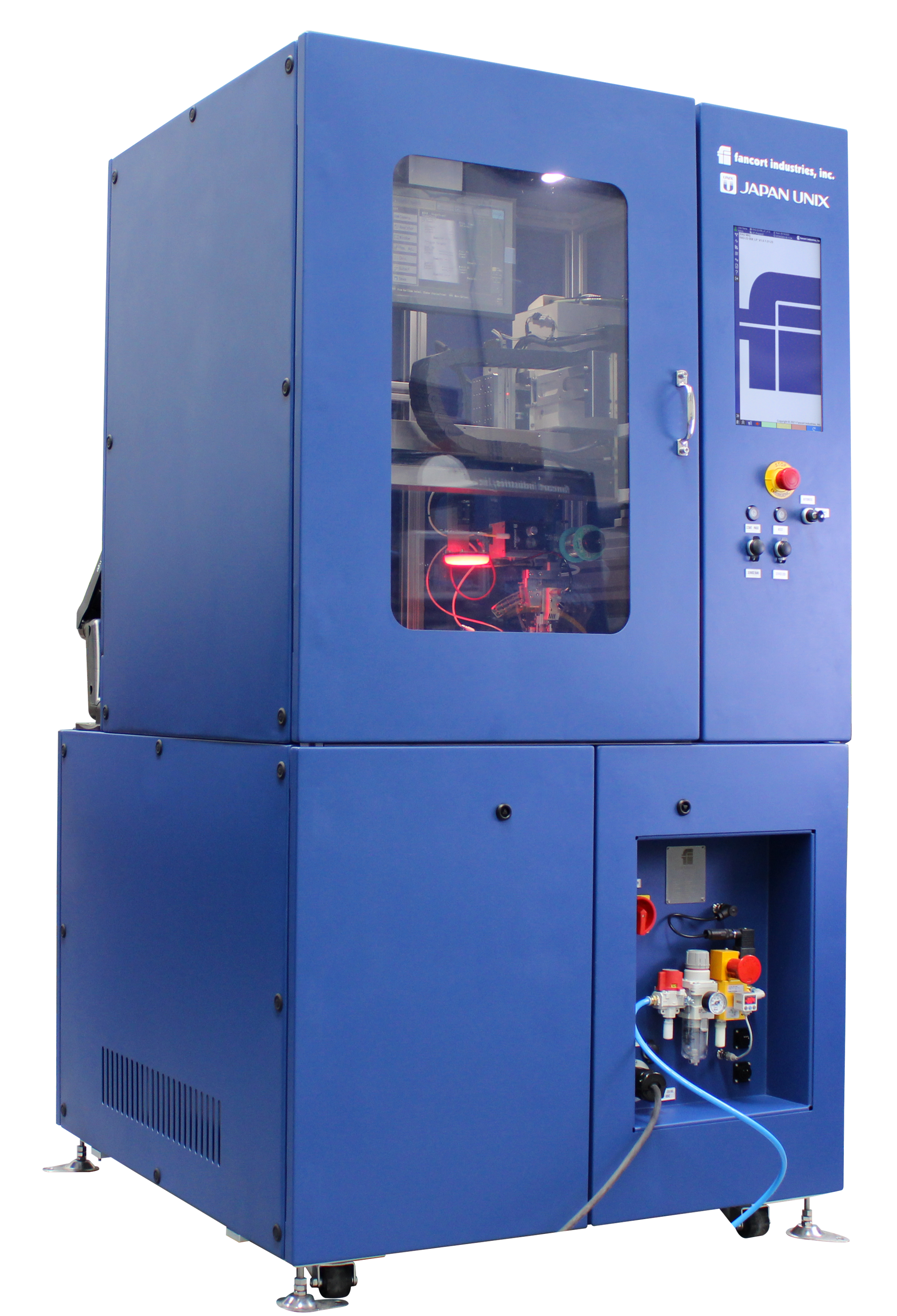 Custom robotic soldering cells - Automated lines
Evolving into a flexible gantry platform while keeping the usability of the best-selling desktop robot. This is considered the best option for mass production line as well as a large size printed circuit board assemblies (PCBA).
Features
・ Equipped with 4-axis/3-axis orthogonal robot.
・ User-friendly teaching program specially designed for soldering.
・ Supports both iron soldering and laser soldering methods.
・ Numerous options including changing shaft length, image processing, thermometer, and QR scanner.
・ Add additional axes.

Custom robotic soldering cells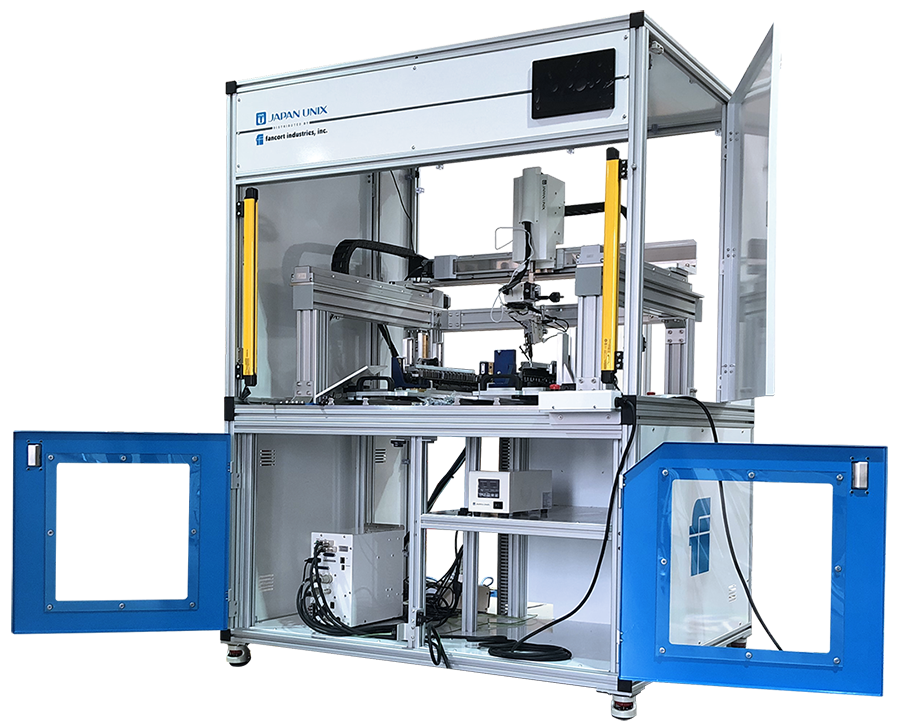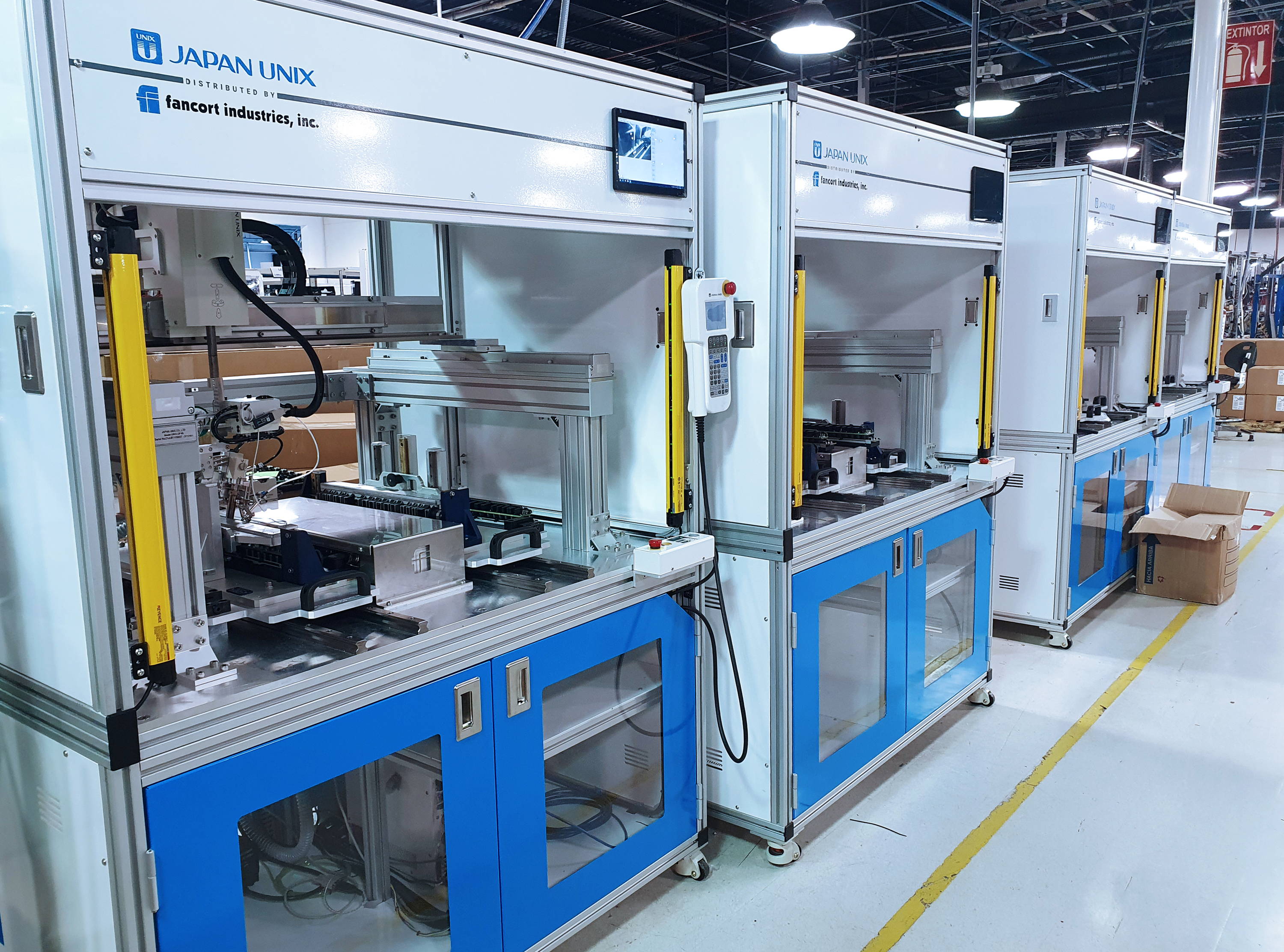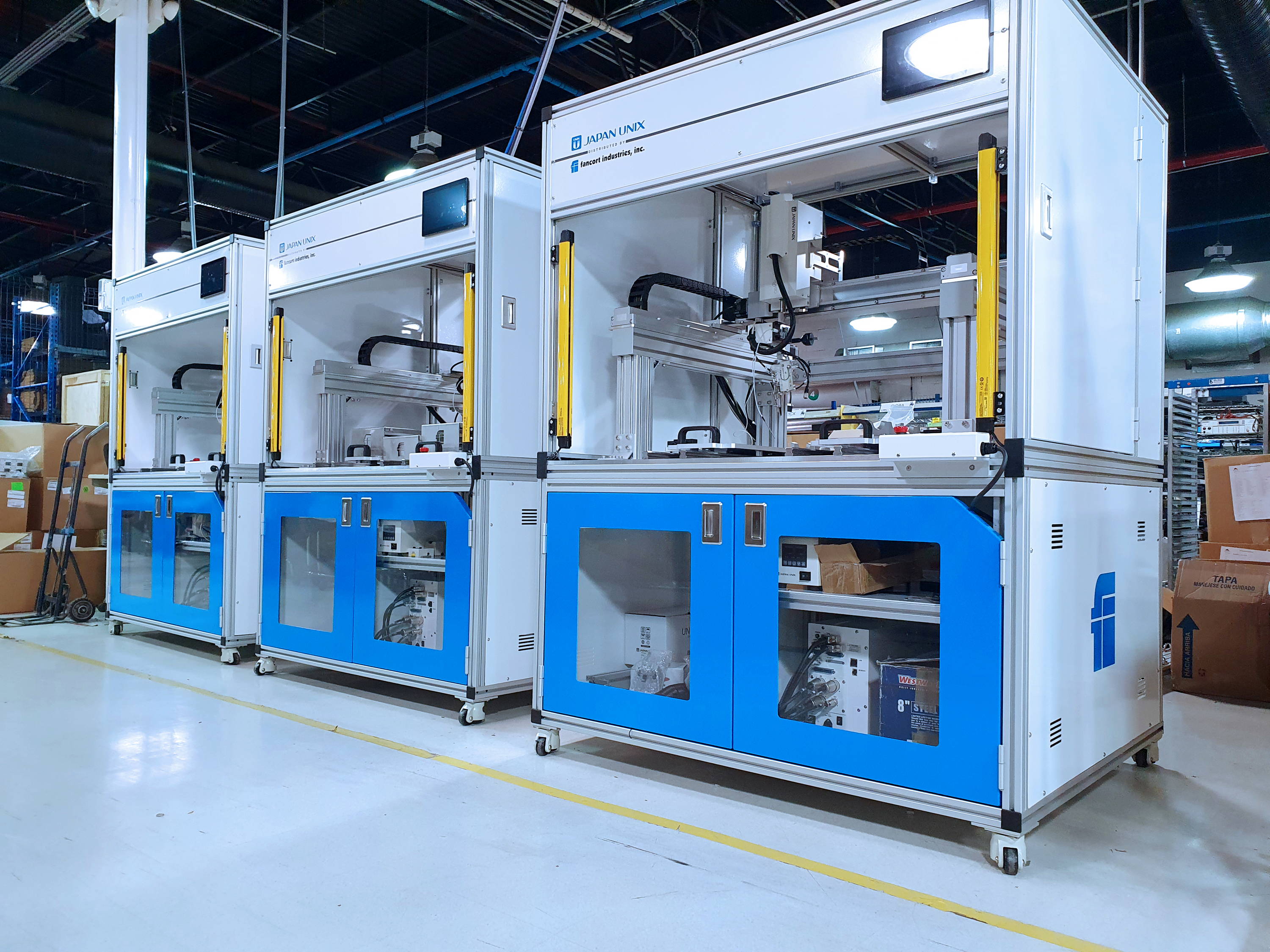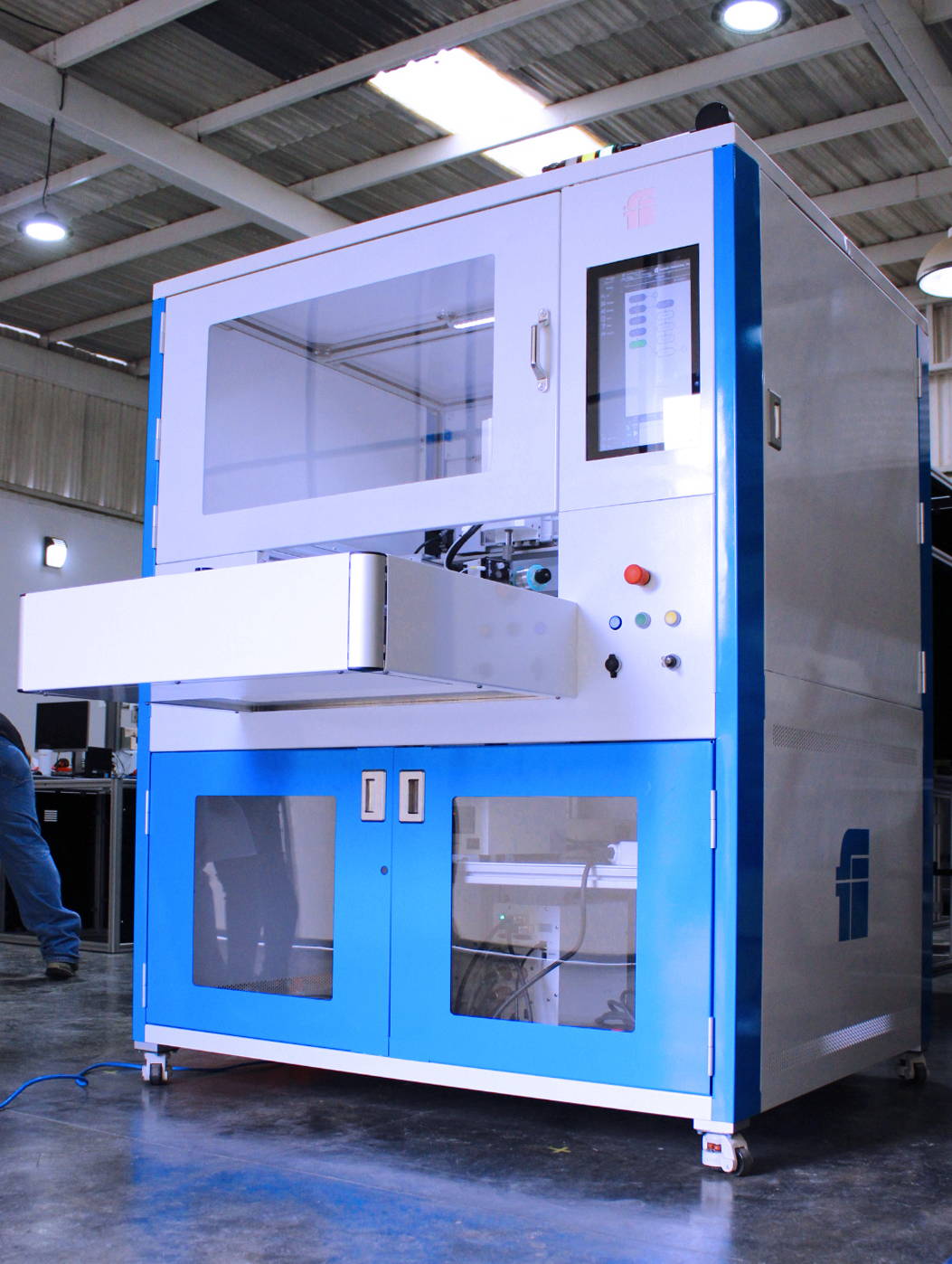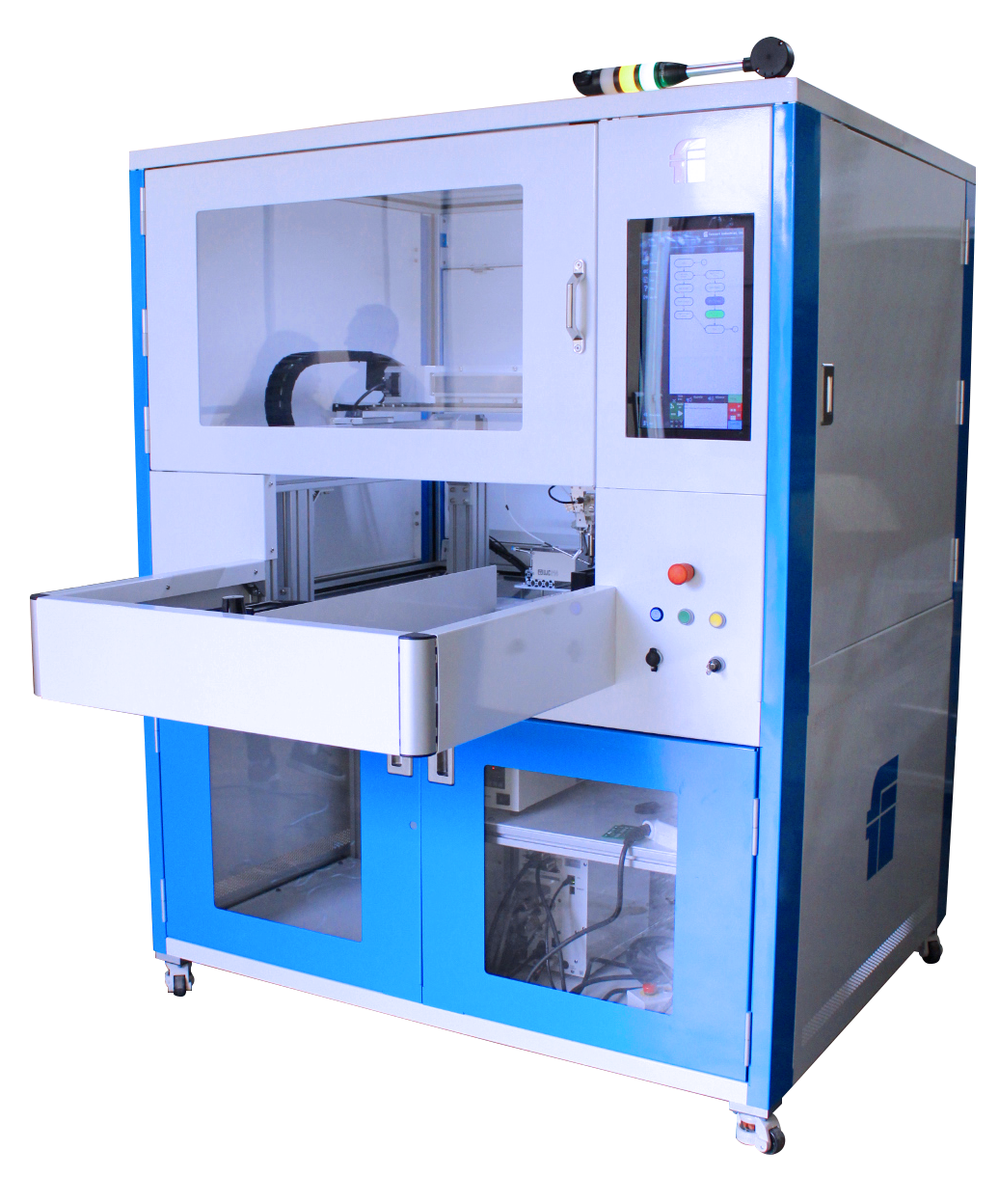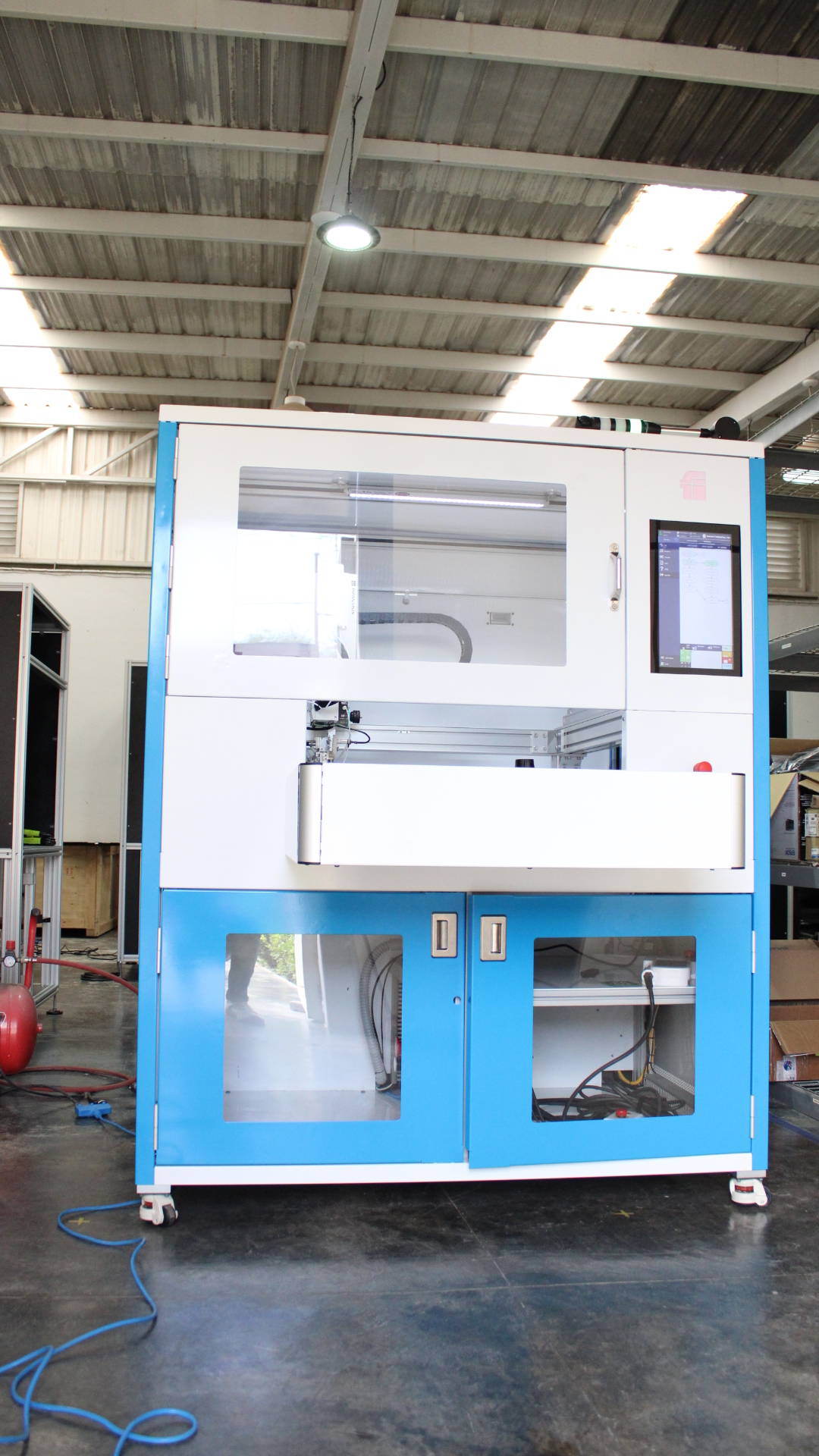 Soldering Manager (software)
Contact Soldering (Desktop and Inline Apps)
Q: What are the advantages of contact soldering?
A: Consistently high quality joints, lower operator skill, up to 2x productivity.
Q: Is robotic soldering faster than hand soldering?
A: Yes, a robotic soldering process is typically faster because an operator can load while the robot is simultaneously soldering.
Q: I have a high product mix. How do I address fixturing?
A: Fancort is an expert fixture designer with the ability to develop quick change and flexible fixturing options.
Q: Does Japan Unix/Fancort offer custom and in-line turn-key solutions?
A: Absolutely, Japan Unix and Fancort can both offer solutions for high volume processes including assembly, dispense, screw driving, inspection and other ancillary processes.
Q: What is the typical Japan Unix tip life? How much do tips costs?
A: Japan Unix tips provide industry-leading tip life in the range of 20,000 — 25,000 hits depending on the application. Tips are typically half the cost of competitive offerings with integrated heating elements.
Q: How do I determine if my application is a good candidate for robotic soldering?
A: Fancort offers free application reviews. If the process meets our standards then we proceed to a consultative proof of concept phase where we may run samples and develop fixturing concepts.
Laser Soldering (Desktop and Inline Apps)
Q: What are the most common reasons to select laser soldering technologies?
A: Micro Soldering (0.02mm spot), non-contact (allows for reflow only), no iron tip consumables, automatic spot size change.
Q: Is laser soldering faster than contact soldering?
A: Laser soldering can be slightly faster because it eliminates some mechanical movement or when used only to reflow.
Q: Does Japan Unix maintain FDA safety approval to sell laser machines in the US?
A: Absolutely
Q: How are the laser positions programmed?
A: Japan Unix was the first company to develop laser soldering more than a decade ago with the patented direct line-of-sight teaching camera that allows you to look directly through the laser beam. This makes teaching easy and avoid inaccuratie due to angle distortion.
Q: Does Japan Unix offer pyrometer modulated power controls (power cruse control)?
A: Yes, Japan Unix is the leader in direct temperature measured laser control.
We can customize to fit your needs, for more information,
click on the button or contact:

+1 (201) 602-6425
SALES INQUIRIES
USA & CANADA
Steve Hoover
shoover@fancort.com 


(888) 326-2678 X 723

+52 33 1068 2731
Robotic Soldering Sitemap