About Fancort™ Robotic Dispensing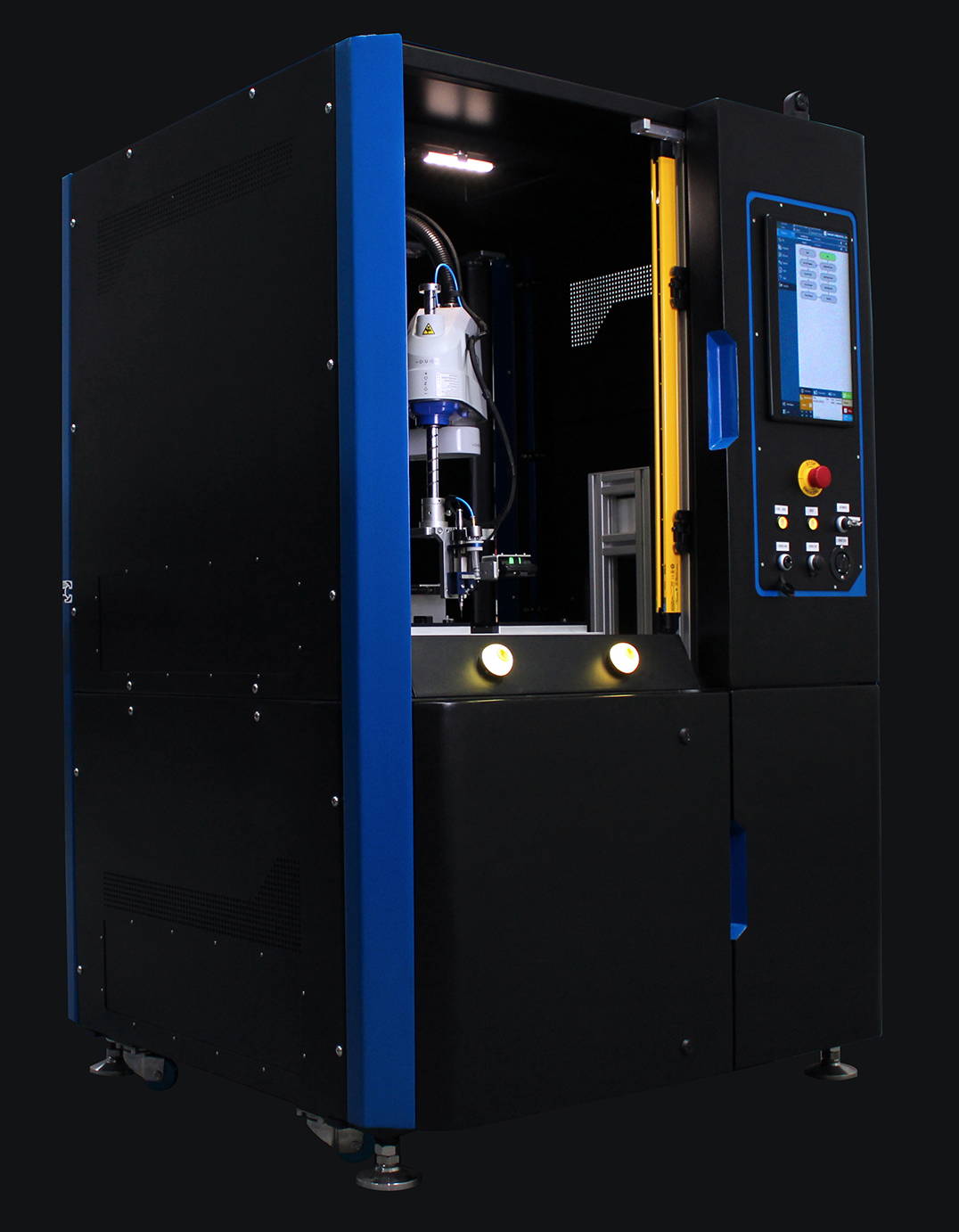 Fancort offers a complete array of highly engineered robotic dispensing solutions. Every system is designed, built, supported and tested by our team of engineers and technicians.
These are some of the most common problems solved with our Robotic Dispensing Systems:
High labor and operating costs
Variation in the results of the dispensing application from different operators.
Liquid Spill
Scrap generation
Low production quality
Rework due bad dispensing
Lack of qualified labor force
No control in material usage
No traceability in the process
Excessive liquid waste on the workstation
Production Line downtime
Connect
Our expertise aligns with your dispensing process.

Investigate
We review your current dispensing problems and automation goals.

Detail and Define
Fancort will work with you to create a detailed proposal.

PO to Deployment
Fancort will provide weekly meetings, status updates, onsite install, training and support plans.

Human or Robotic Dispensing?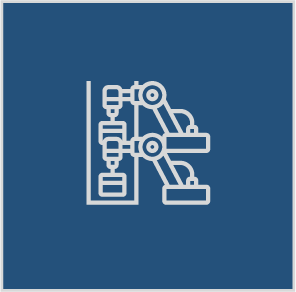 Productivity Gains
Improve Cycle Time.
High precision.
Reduced Rework.
Lack of labor.
Operational Improvements
Lower expenses.
Increase uptime.
Decrease material costs.
Reduce turnover / training.
Quality Improvements
Error-proofing.
Traceability.
Zero-defect requirements.
Fancort Signature
CAD Design Proposal.
Sampling Reports in video/pictures.
Engineering Study to determine the best match to your application.
Fancort™ Automated Robotic Dispensing Cell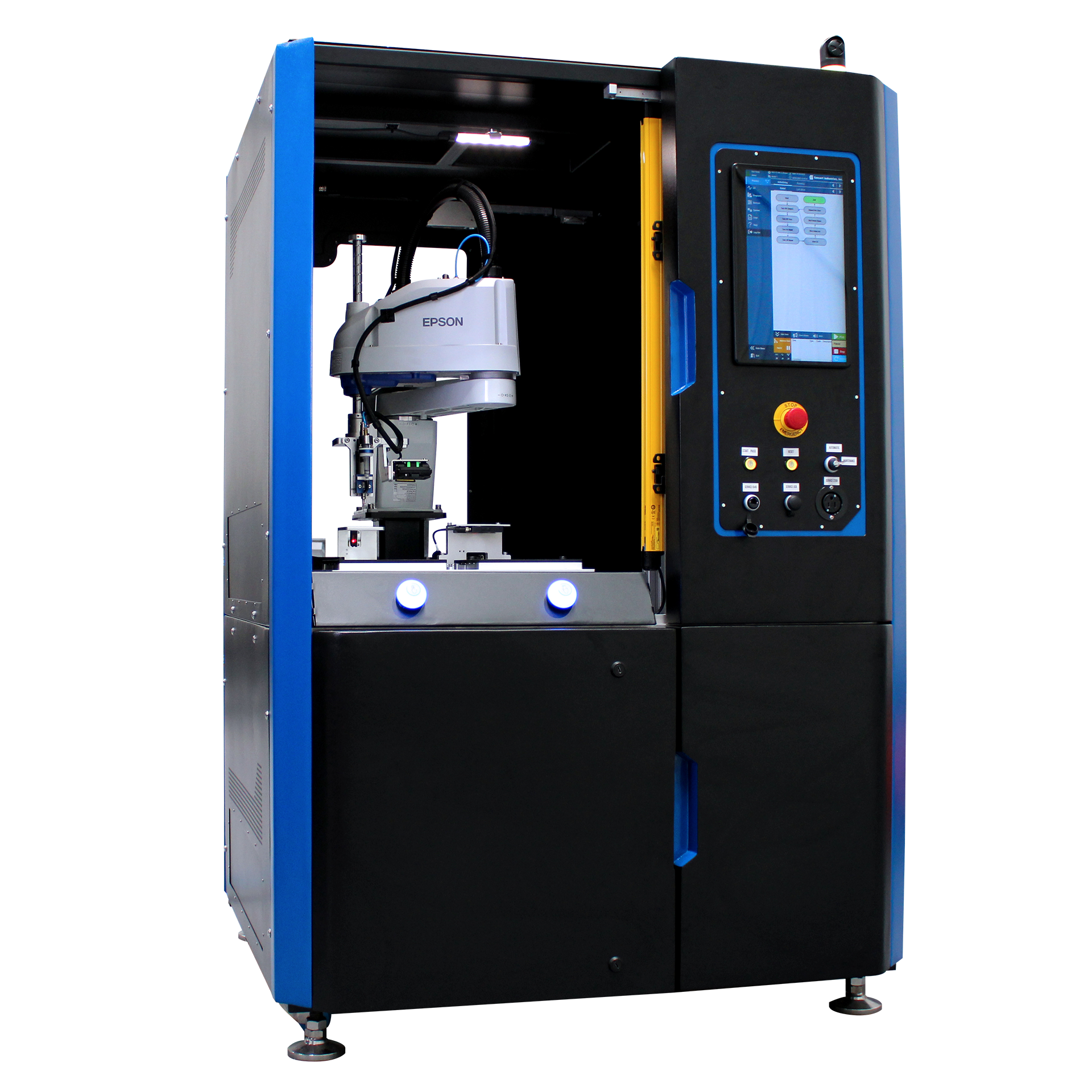 Automated Robotic Dispensing Cell
Material Infeed/Outfeed – Dispense Tray populated with assembled connectors. Robotic Dispense – EPSON SCARA Robot with Dispense kit. Safety – Andon lights, safety interlocks, and a modular enclosure that can be moved as needed. Part Handling – Custom CNC Machined trays to hold the assembled connectors.

System Features
Real-time monitoring.
Turn-key Solution.
Touchscreen for operating panel.
Custom Design.

System Specs.
Platform: Standalone/Cell/ Robotics.
o L x W x H = 42" x 42" x 72" (However this may change – TBD during design review).
Support: Status Buttons, Digital Sensors.
E-Stops will be positioned within reach of the operator(s).
Door interlocks with machine access to the robotic cell.
The electrical cabinet will be locked using a key.
All wiring connections, sensors, solenoids shall be labeled.
All machine doors must use fail-safe hardware safety interlocking devices – the machine cannot move in case the enclosure door is opened.
Limit hazards associated with moving machinery.
Sharp corners are rounded or cushioned.
Tower Light.


Compatible Fluids
Adhesives
Epoxy
Flux
Grease
RTV
Sealants
Solder Paste
Staking Material
Underfill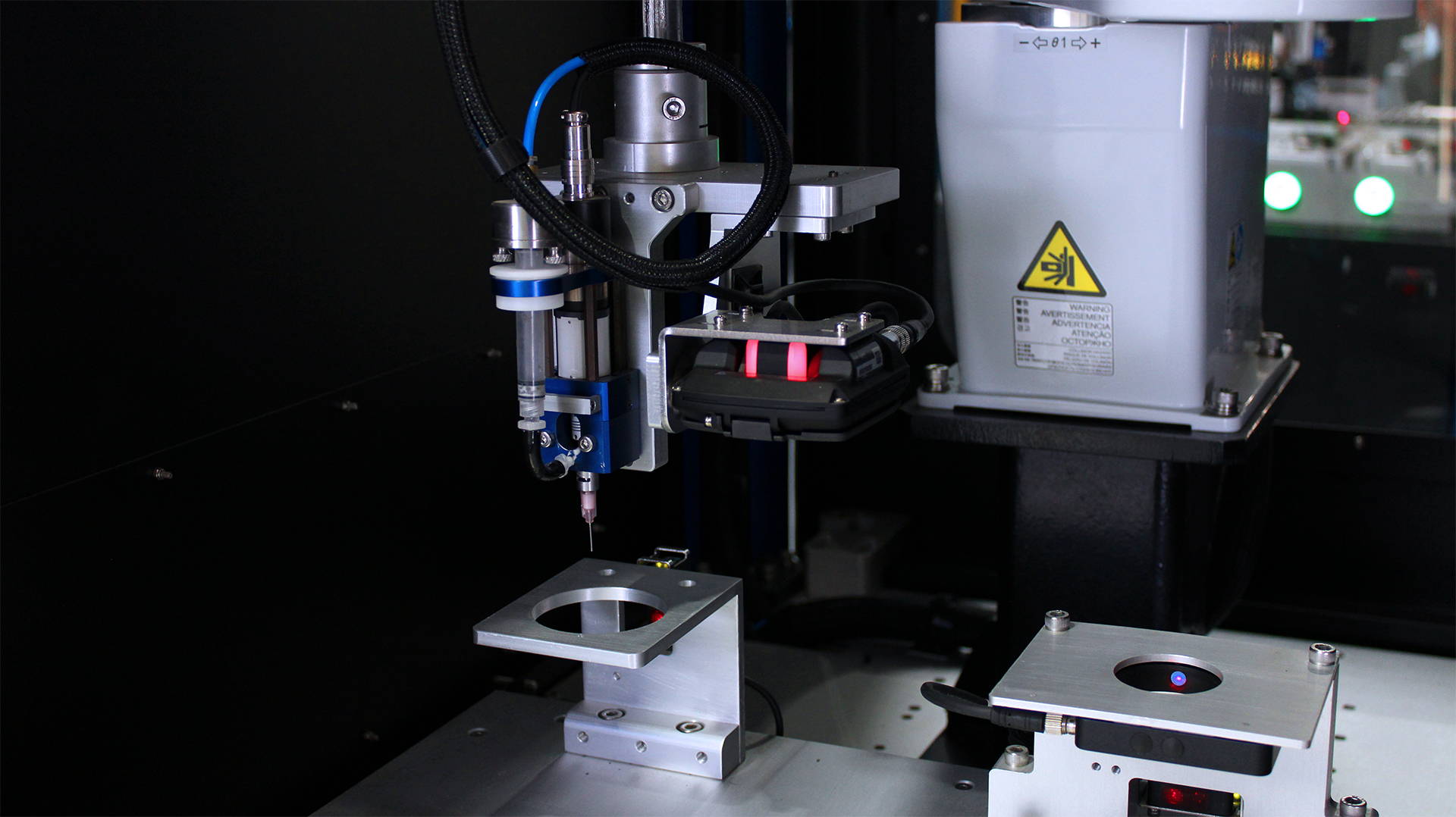 Compatible Fluids
Grease
Acrylic
Chip Bonder
Cyanoacrylate
2 Part Fluids
Oil
Silicone
Thermal Interface Material
UV Curable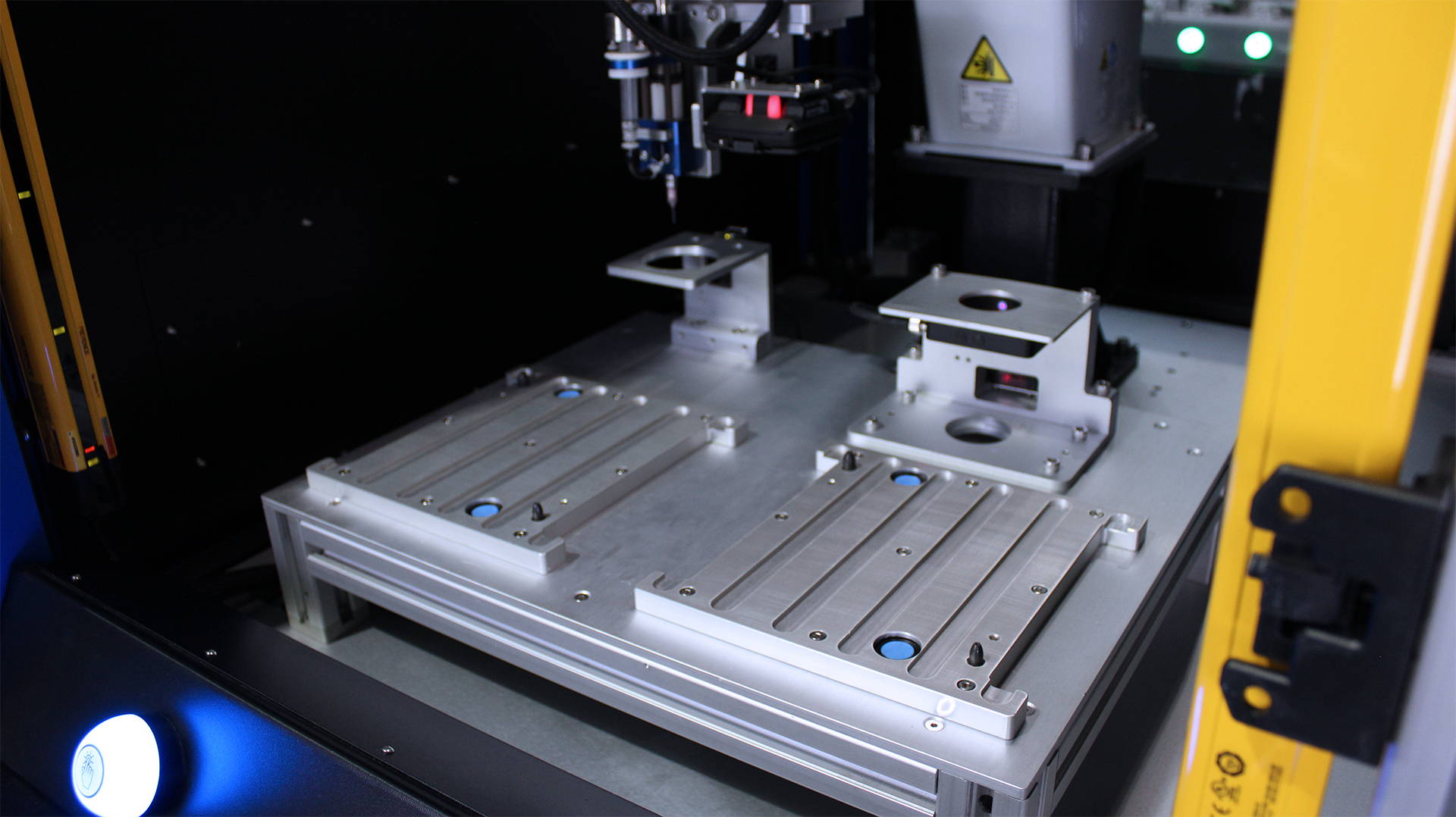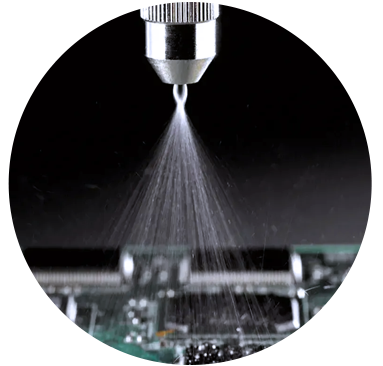 Conformal coating
The application of a protective film or layer of liquid onto a PCB, either in selected areas or over the entire assembly. Conformal coatings are applied using an array of technologies such as atomized spray, airless film, needle dispense and jetting.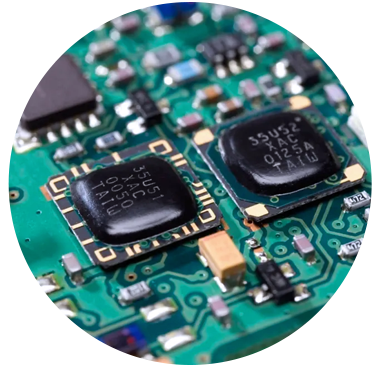 Encapsulation & glob top
Applying an epoxy or silicone based fluid that completely covers a defined area around a flip chip or wire bonded component. This provides mechanical stability during shock and vibration, as well as environmental protection from moisture and foreign objects.

Potting
The process of filling an enclosure that holds electronic circuitry, with a liquid that when cured completely encases the unit. This provides mechanical stability during shock and vibration as well as environmental protection from moisture and foreign objects.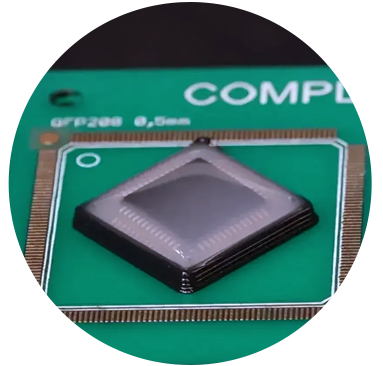 Dam & fill
A 2-step process of first dispensing a high viscosity fluid around the perimeter of a device or electronic circuitry, and then dispensing a low viscosity fluid within the perimeter to fully encase the components. The dam can be applied as a single or multi-layer bead.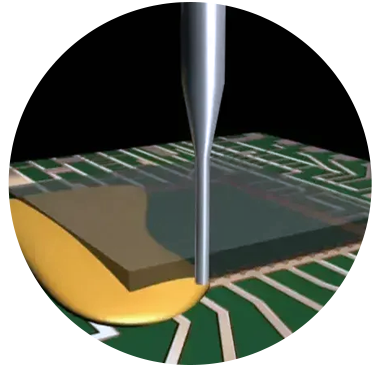 Underfill
The application of an (typically) epoxy based fluid along one or more edges of an electronic component, such as a flip chip or BGA type package, that flows underneath using capillary action. Underfill is used to prevent thermal mismatch between the component and the substrate, prevent moisture penetration, and to provide mechanical stability during shock and vibration.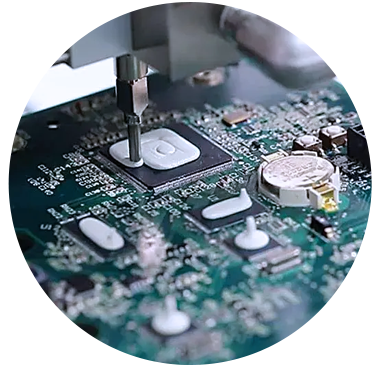 Bonding
The application of a liquid adhesive to join two surfaces, such as metal, plastic, glass, rubber, or ceramic, together which forms a complete bond and transfers forces between the substrates.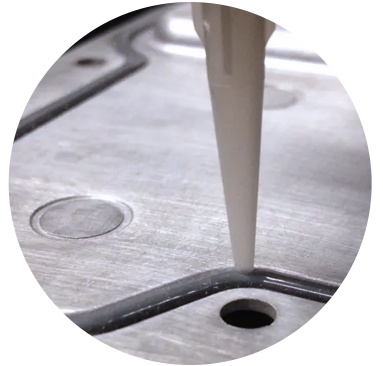 Gasketing
Also known as "form-in-place gasketing," this application dispenses one or two-part liquids into a groove or onto a flange that will cure to form a seal against liquids and gases. This automated process eliminates the task of assembling a die cut or pre-made gasket. Additionally, geometries can easily be modified for other designs.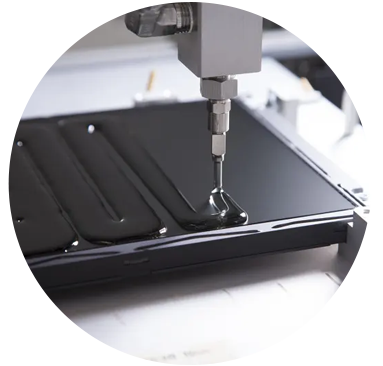 Optical bonding
The process of applying an optically clear liquid to a digital display, such as LCD or plasma, to bond a cover glass and/or touch sensor to eliminate the air gap between each layer. This provides improved image clarity, especially in outdoor or bright light environments, improved resistance to shock and vibration, and additional protection against dust and moisture.


For more information, click on the button or contact: