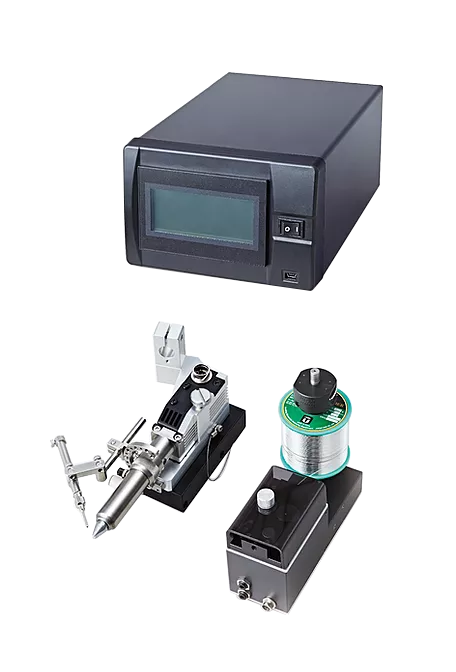 ---
Robotic unix units for every factory
Simple, yet high-performance. High-performance, yet low-cost. Three core modules for robotic soldering "soldering head", "controller", and "feeder" are all in set. Due to high flexibility, USP5 is the best for Index, cell, inline or any production process.
We offer technical support for systems integrators and manufacturers.
Soldering unit and modules
Japan Unix offers high performance soldering Unix machines that can be incorporated in core technologies. Any type of robotic Unix units must have the feature of solder feeder, heating mechanism such as an iron tip soldering head or laser soldering unit. Soldering controllers manage both soldering temperature and the amount of solder alloy. Japan unix differentiates soldering modules with our confident experience, which will bring differentiated advantages to customers.
Controller
• Touch panel interface
• Easy operation with Excel
• Up to 255 soldering conditions
• Multiple language and voltages for global use

Soldering head
• Equipped with new 250W heater
• High-powered tip even with a separate heater
• Easy and quick maintenance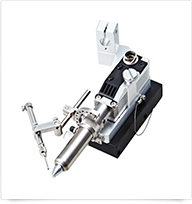 Solder feeder
• Error detection function with patented encoder
• Solving automatic feeding issues, slipping, jamming
• Highly precise feeding control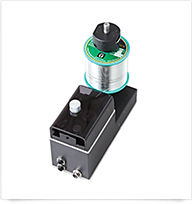 ---
---
Contact Soldering (Desktop and Inline Apps)
---
Q: What are the advantages of contact soldering?
A: Consistently high quality joints, lower operator skill, up to 2x productivity.
Q: Is robotic soldering faster than hand soldering?
A: Yes, a robotic soldering process is typically faster because an operator can load while the robot is simultaneously soldering.
Q: I have a high product mix. How do I address fixturing?
A: Fancort is an expert fixture designer with the ability to develop quick change and flexible fixturing options.
Q: Does Japan Unix/Fancort offer custom and in-line turn-key solutions?
A: Absolutely, Japan Unix and Fancort can both offer solutions for high volume processes including assembly, dispense, screw driving, inspection and other ancillary processes.
Q: What is the typical Japan Unix tip life? How much do tips costs?
A: Japan Unix tips provide industry-leading tip life in the range of 20,000 — 25,000 hits depending on the application. Tips are typically half the cost of competitive offerings with integrated heating elements.
Q: How do I determine if my application is a good candidate for robotic soldering?
A: Fancort offers free application reviews. If the process meets our standards then we proceed to a consultative proof of concept phase where we may run samples and develop fixturing concepts.
We can customize to fit your needs, for more information,
click on the button or contact:

+1 (201) 602-6425
SALES INQUIRIES
USA & CANADA
Steve Hoover
shoover@fancort.com 


(888) 326-2678 X 723

+52 33 1068 2731
Trusted by the Aerospace & Defense Industry for over 47 years

Robotic Soldering Sitemap