UNIVERSAL ROBOTS DISPENSING
---
The Fancort UR+ dispensing system has been specially designed to meet even the most ambitious needs for repeatability and dispensing accuracy.
Fancort is a Universal Robots Certified System Integrator (CSI)
R&D lab available, equipped with a variety of dispense systems.
Our expertise
Custom Fixturing
Visual Inspection
Error-proofing
Traceability
Zero-Defect Manufacturing
Three Platforms Available
UR3e (500mm reach)
UR5e (850mm reach)
UR10 (300mm reach)
Turnkey systems, ready to go!
Fluid dispensing and pump options
---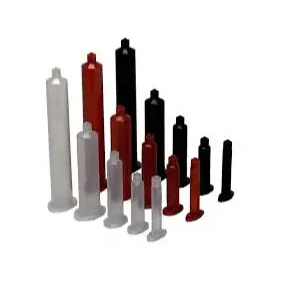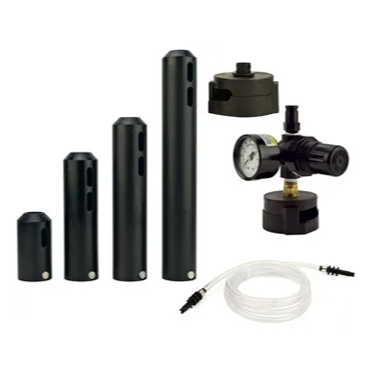 Cartridge Systems
2.5oz/6oz/12oz/20oz/32oz/310ml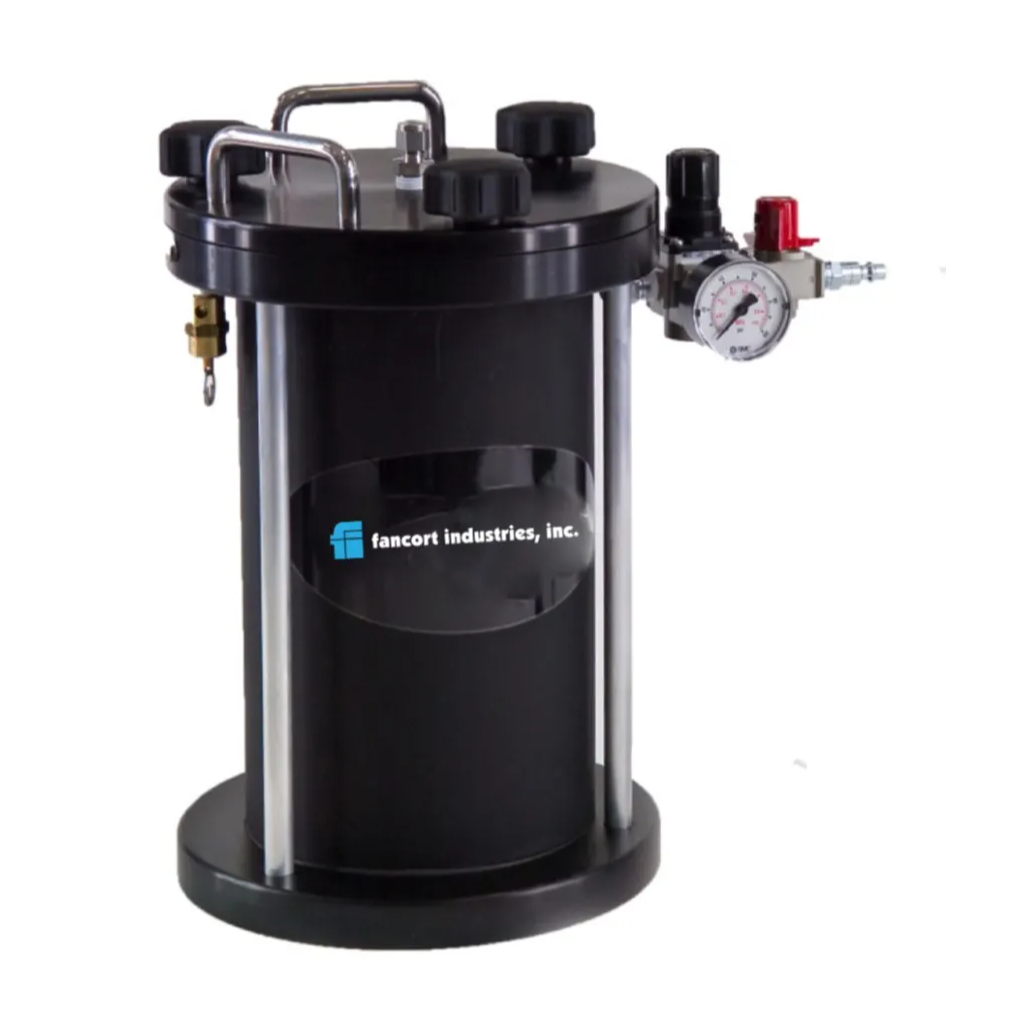 Drop in Bottle Pressure Tanks
2-Liter or 5-Liter (1 gallon)
Drop-in bottle only (no pour)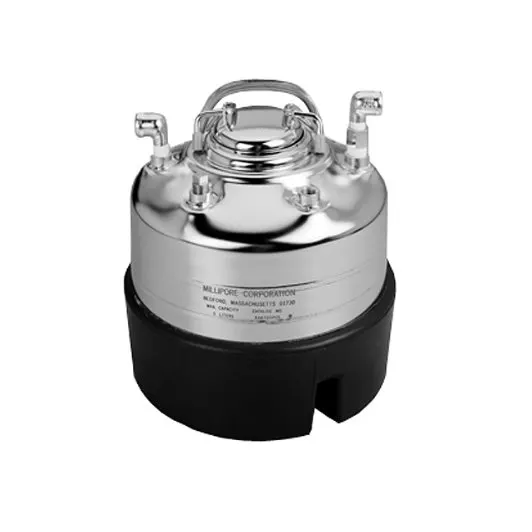 Stainless Steel Pressure Tank
Flip Top Style Tank Options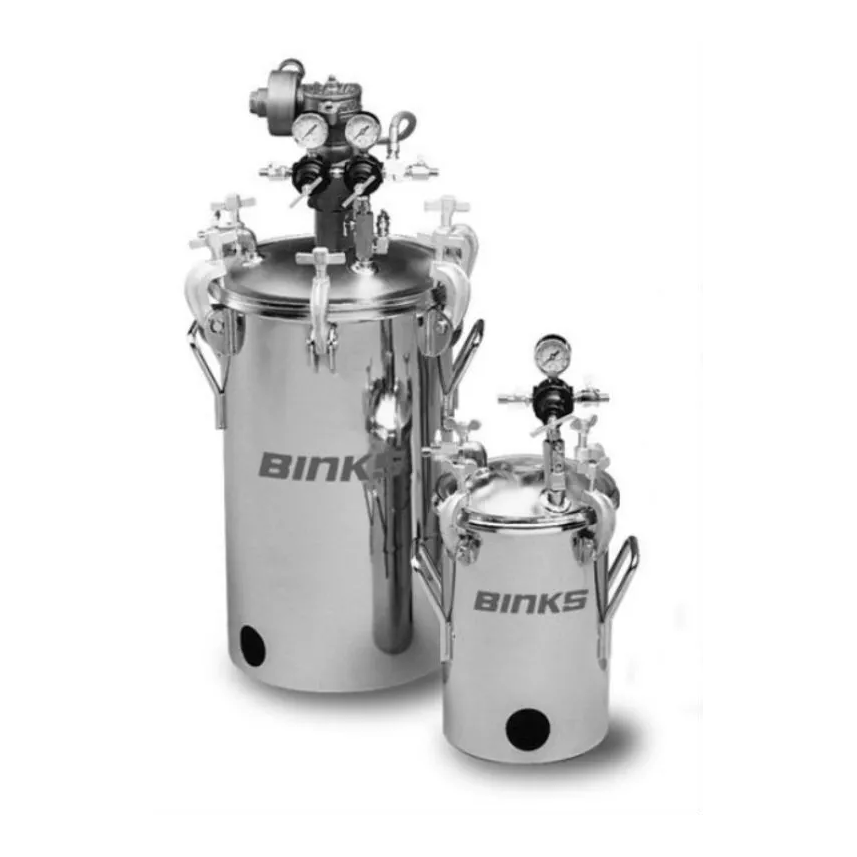 Stainless Steel Pressure Tanks
Full Removable Top Tank Options
Agitators, Heaters, Recirculation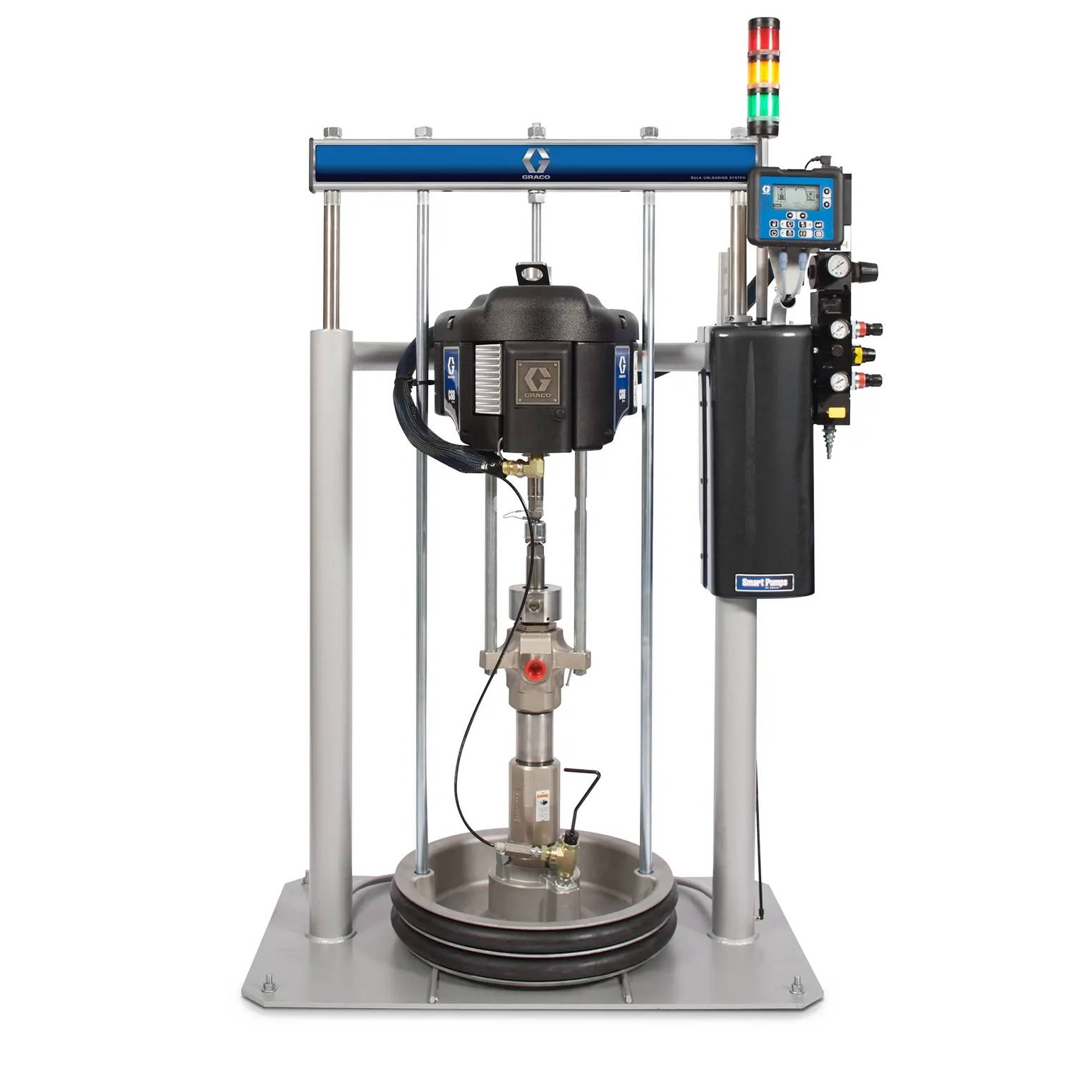 Pail Pump Systems
High Viscosity Silicones and RTV's
5-Gallon Pails 11:1/23:1/43:1 Ratio
---
---

• Adhesives
• Epoxy
• Flux
• Grease
• RTV
• Sealants
• Solder Paste
• Staking Material
• Underfill
• Grease
• Acrylic
• Chip Bonder
• Cyanoacrylate
• 2 Part Fluids
• Oil
• Silicone
• Thermal Interface Material
• UV Curable
---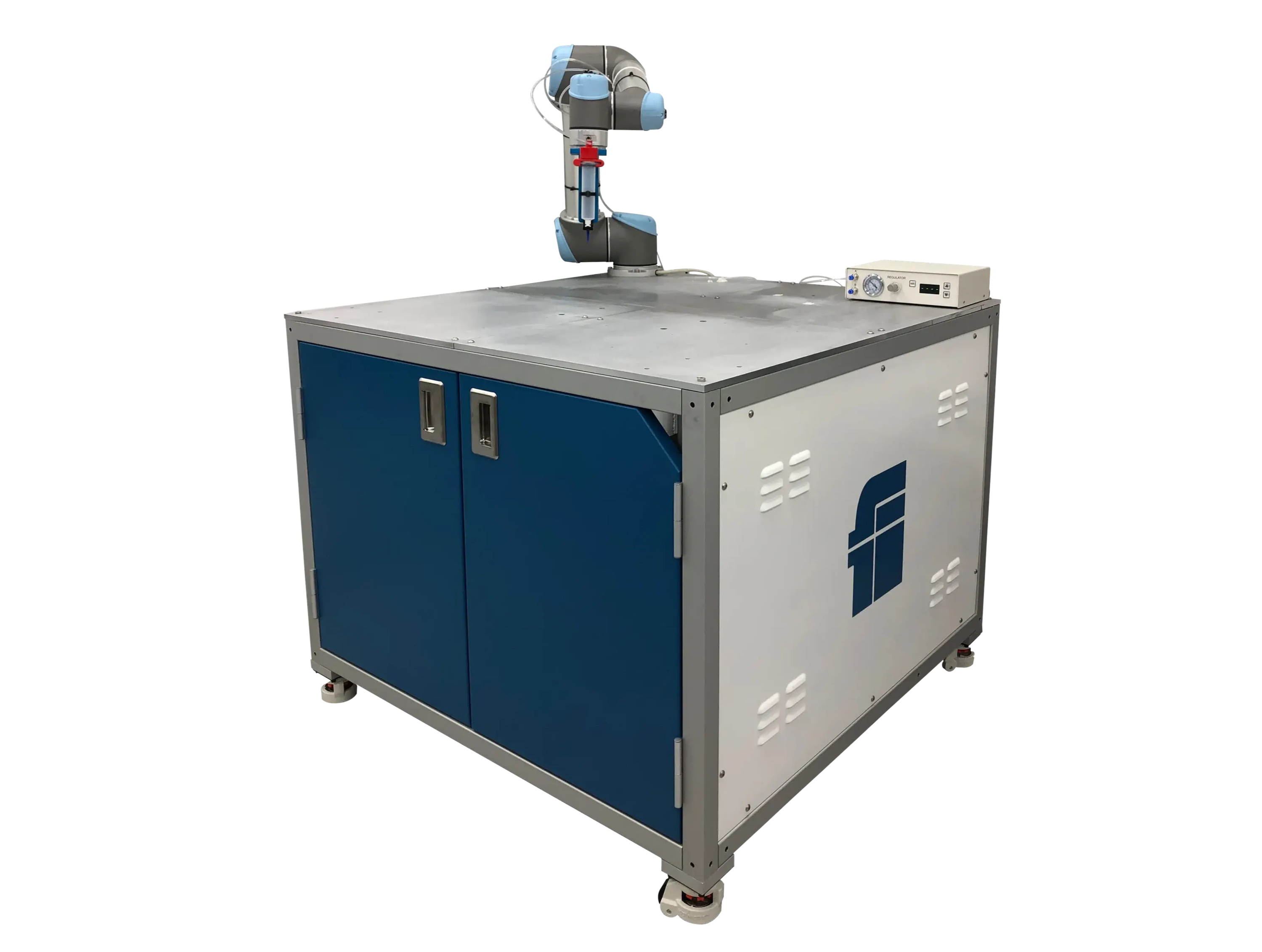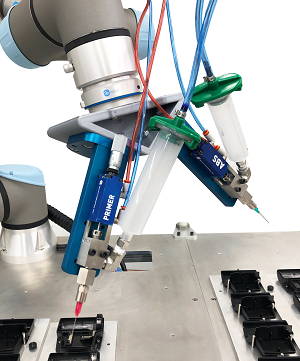 Produce immediate labor savings with the Fancort flexible dispense cell!

Fancort provides turn-key automation solutions that will improve product quality and consistency as well as save operational costs.
The dispense work cell is based on the Universal Robot, a highly flexible robot that can be easily reprogrammed and used for other applications. An On-Robot Tool Changer is automatically included in your installation so that you can utilize the robot for a variety of applications with minimal changeovertime.

Working Area
UR3 -------- 500mm reach
UR5 -------- 850mm reach
UR10 -- 1300mm reach
Flexible automation platform - General Specs

UR can be used for other applications (Assembly, PNP, Screw Fastening, Machine Tending, Deburring, etc)

Small Flexible Footprint – Can easily be moved around on your floor.

Complex dispense path possible – 6 axis robot – Optional CAD based programming available.

Universal Automation platform – The universal robot can be used in a variety of applications across your production floor. 1 Robotics platform, 1 programming language, endless applications!

Production Metrics / KPI tracking – real time data that shows your production. (Robotiq Insights)

Can be integrated with your current dispense hardware – Requires engineering time to integrate equipment and custom end of arm tooling to adapt hardware.
---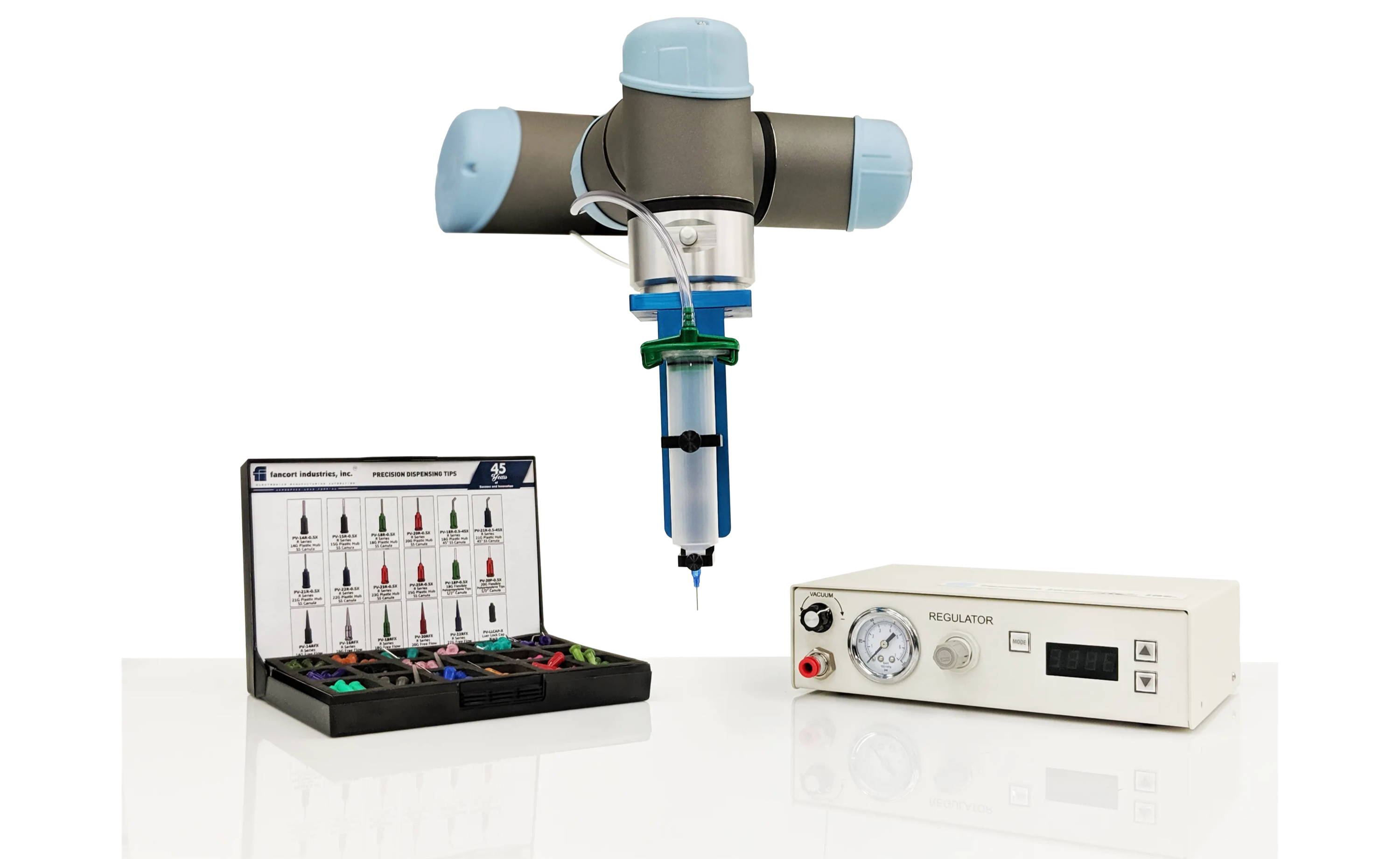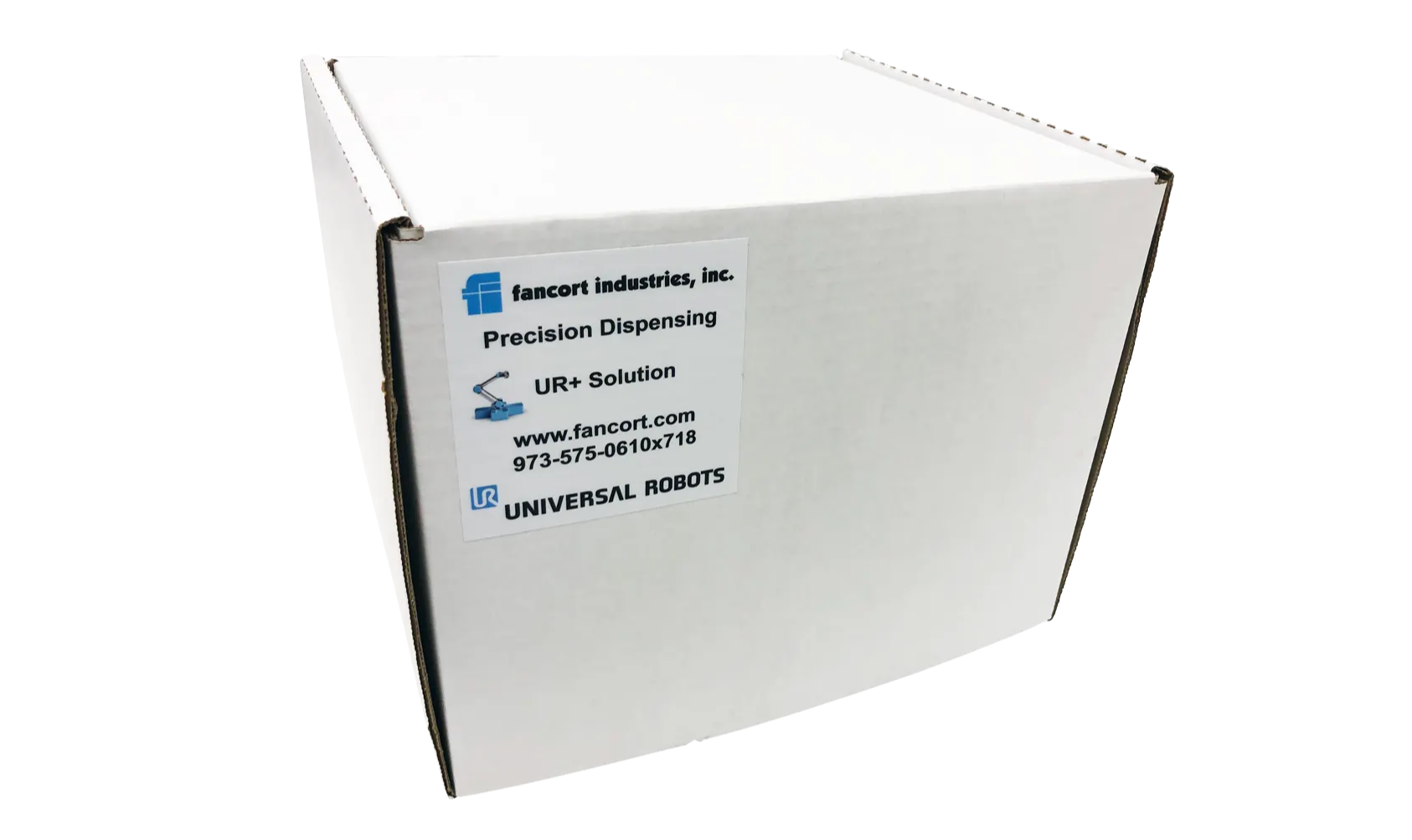 Our UR+ solution is a plug and play kit, the I/O are pre-wired so that you can plug it directly into the controller.
This kit is shipped in one box: 14" x 12" x 10" 10 LBS
Download Literature

UNIVERSAL ROBOTS DISPENSE KIT
Fancort offers a plug-in-play fluid dispense kit that fits all Universal Robots - the world's leading Co-bots.
These kits are designed to dispense fluids from 100-400,000 centi-poise with minimal and easy integration including a universal mounting bracket that works for the standard syringe as well as our precision engineered valves.
The base kit is available for online purchase for $2,250.00 and includes everything you need to get started including needles and test gel.
How does it work?
With your UR robot rigidly mounted and a flat surface working area available you can get quickly started by mounting the universal dispense valve assembly to your robot, plug the controller into power, air, connect the wiring harness (pre-wired) and pressure lines (quick connects).
Once setup you can follow the quick start instructions to being laying down the bead size required.

Technical Details:
Includes a URCap plugin: Yes
Compatibility: UR3e, UR5e, UR10e, UR3, UR5, UR10 (CB3.1, CB3.0)
Software required: Polyscope 3.7 and up
Dependencies: 80 PSIG air supply. 120 V single phase power
Dimensions: Controller, Bracket

What's in the box:
• Controller • Universal Dispense Bracket • Quick connect wiring harness
• Syringe • Syringe mount • Precision dispense needle sample kit (~150 Tips) • Dispense dot volume chart • Quick Start Manual • Foot Pedal (for manual dispense) • Tube set • Misc fittings
License type: One time purchase
---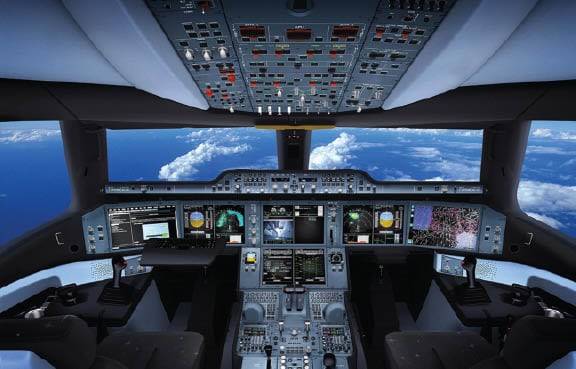 ---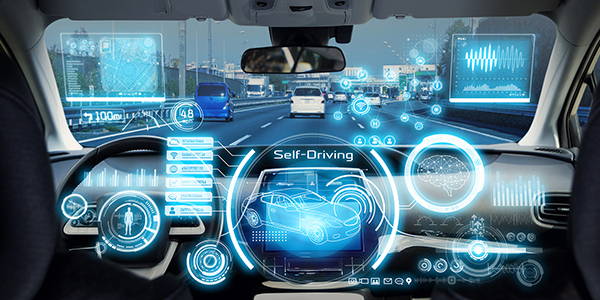 Fancort serves many industries with a range of applications including adhesives/sealants, automated dispensing, coating, curing, custom automation, manual dispensing, micro dispensing and SMT/semiconductor dispensing. The goal is to provide the best technology for each customer within the following industries:
Electronics: Used in manufacturing everything from smart phones to LCD displays, the company's automated and manual solutions provide accurate, reliable dispensing of materials such as solder pastes, adhesives, silicones, sealants and cyanoacrylates.
Aerospace: Precision and reliability are crucial in the manufacturing of aircrafts and their parts. Leading manufacturers rely on Fancort for accurate dispensing of lubricants, solvents, sealants, adhesives and pastes.
Automotive: The diverse automotive industry presents numerous dispensing opportunities from selective spray coating to potting, gasketing and bead dispensing, including applying adhesives and lubricants.
Medical Device Manufacturing: The company's solutions assist in this industry from the handheld prototyping phase all the way through to large-scale production. Our systems are used in applications such as bonding of plastics, glass and metals, lubricating equipment, coating, dispensing UV adhesives for bonding canulas, catheters, and other plastic, glass and metal components.
Military/Defense: The military market is known for high-mix/ low-volume applications, as well as nontraditional boards.
General Packaging: Combining flexible custom solutions with diverse application expertise, Fancort is a valuable source for dispensing hot melt adhesives, doming materials, sealants, epoxies and spray coat finishing.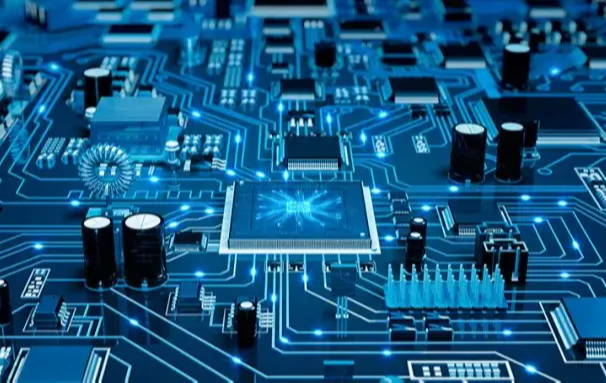 ---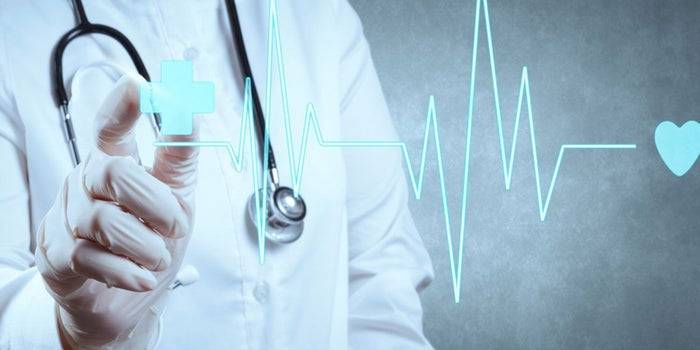 Fancort is a specialist in dispense automation
---
Conformal coating
The application of a protective film or layer of liquid onto a PCB,
either in selected areas or over the entire assembly. Conformal
coatings are applied using an array of technologies such as atomized
spray, airless film, needle dispense and jetting.
Encapsulation & glob top
Applying an epoxy or silicone based fluid that completely covers a defined area around a flip chip or wire bonded component. This provides mechanical stability during shock and vibration, as well as environmental protection from moisture and foreign objects.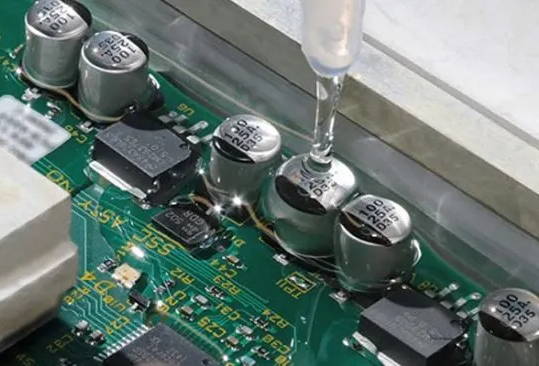 Potting
The process of filling an enclosure that holds electronic circuitry, with a liquid that when cured completely encases the unit. This provides mechanical stability during shock and vibration as well as environmental protection from moisture and foreign objects.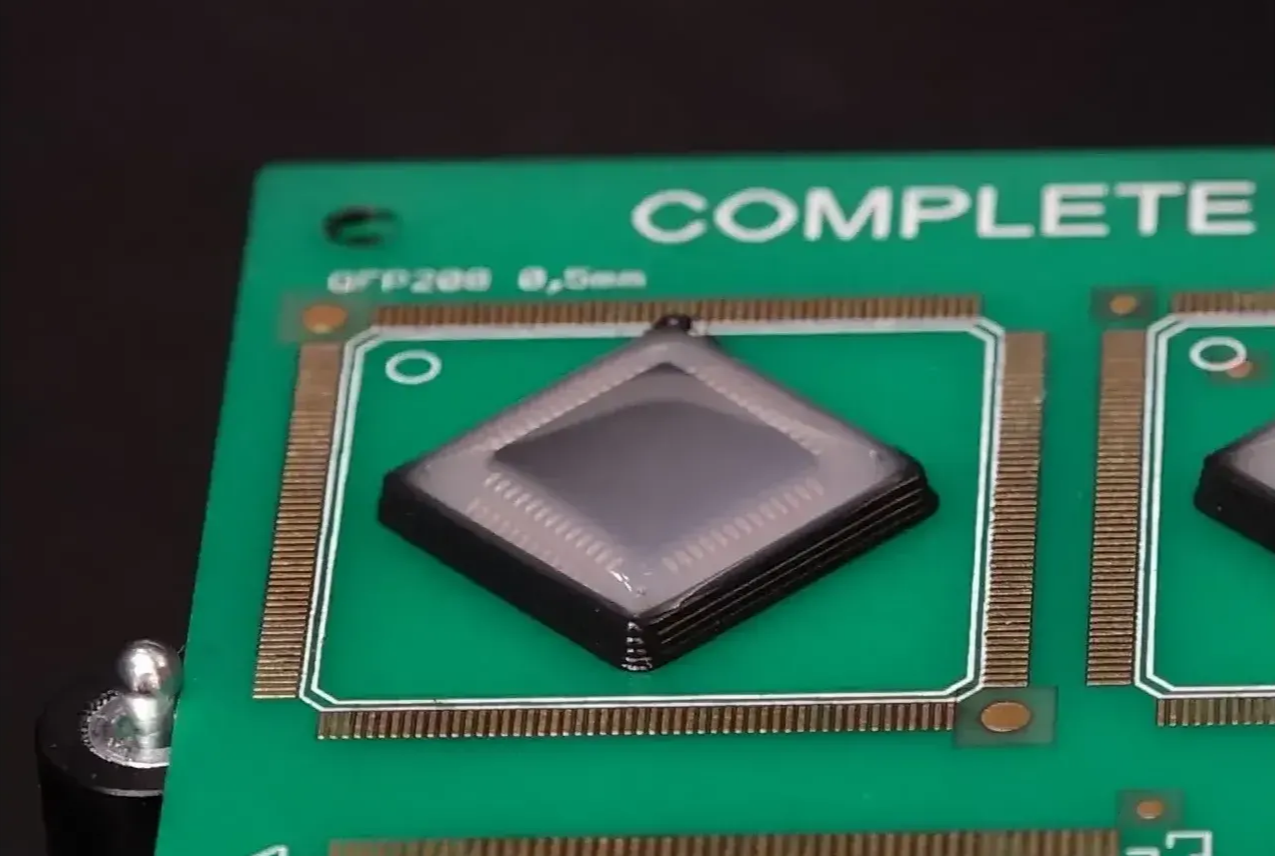 Dam & fill
A 2-step process of first dispensing a high viscosity fluid around the perimeter of a device or electronic circuitry, and then dispensing a low viscosity fluid within the perimeter to fully encase the components.
The dam can be applied as a single or multi-layer bead.

Underfill
The application of an (typically) epoxy based fluid along one or more edges of an electronic component, such as a flip chip or BGA type package, that flows underneath using capillary action. Underfill is used to prevent thermal mismatch between the component and the substrate, prevent moisture penetration, and to provide mechanical
stability during shock and vibration.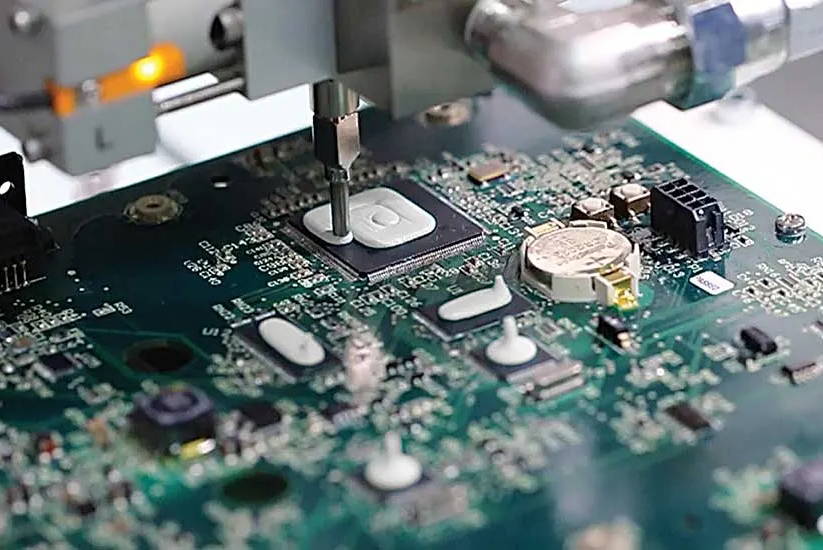 Bonding
The application of a liquid adhesive to join two surfaces, such as metal, plastic, glass, rubber, or ceramic, together which forms a complete bond and transfers forces between the substrates.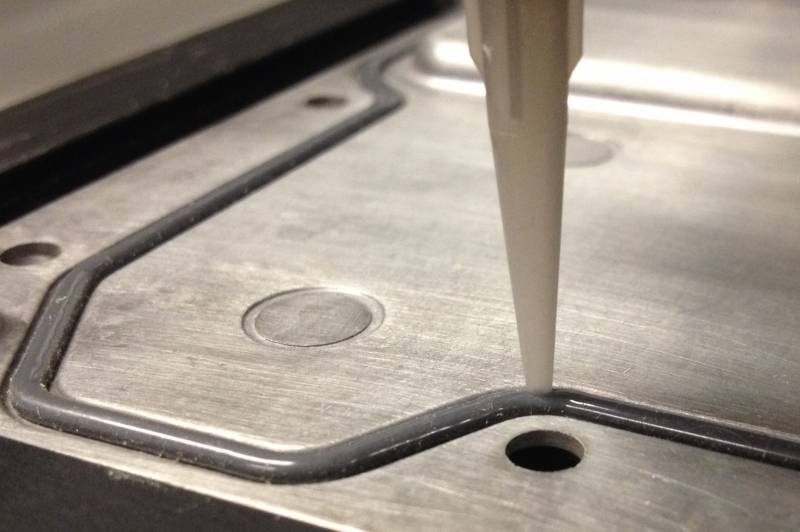 Gasketing
Also known as "form-in-place gasketing," this application dispenses one or two-part liquids into a groove or onto a flange that will cure to form a seal against liquids and gases. This automated process eliminates the task of assembling a die cut or pre-made gasket. Additionally, geometries can easily be modified for other designs.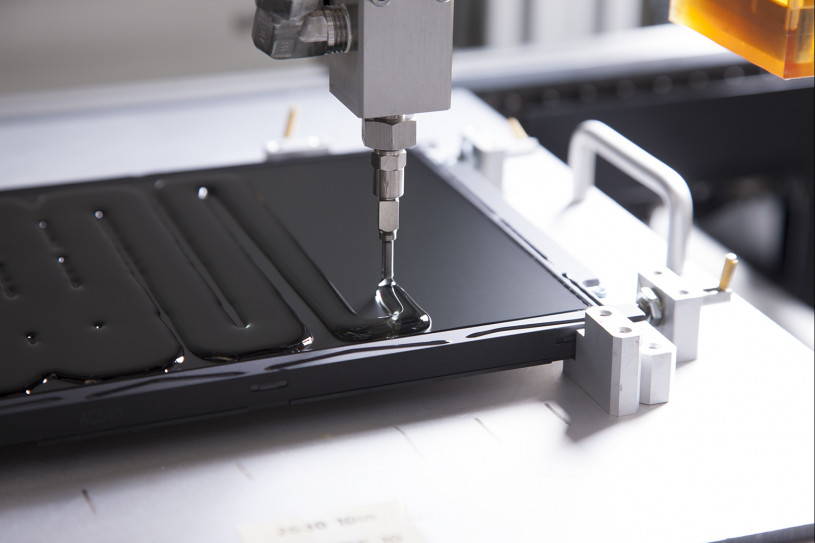 Optical bonding
The process of applying an optically clear liquid to a digital display, such as LCD or plasma, to bond a cover glass and/or touch sensor to eliminate the air gap between each layer. This provides improved
image clarity, especially in outdoor or bright light environments, improved resistance to shock and vibration, and additional protection against dust and moisture.

Why Fancort Robotic Dispensing?
---
We dedicate ourselves to deliver the best dispensing results to meet your expectations, this is what you will get working with us:
Productivity Gains
• Improve Cycle Time
• High precision
• Reduced Rework
• Lack of labor
Operational Improvements
• Lower expenses
• Increase uptime
• Decrease material costs
• Reduce turnover / training
Quality Improvements
• Error-proofing
• Traceability
• Zero-defect requirements
ROBOTIC DISPENSING SHORTCUTS
For more information, click on the button or contact: