COMPONENT PROCESSING SERVICES: MATRIX TRAYS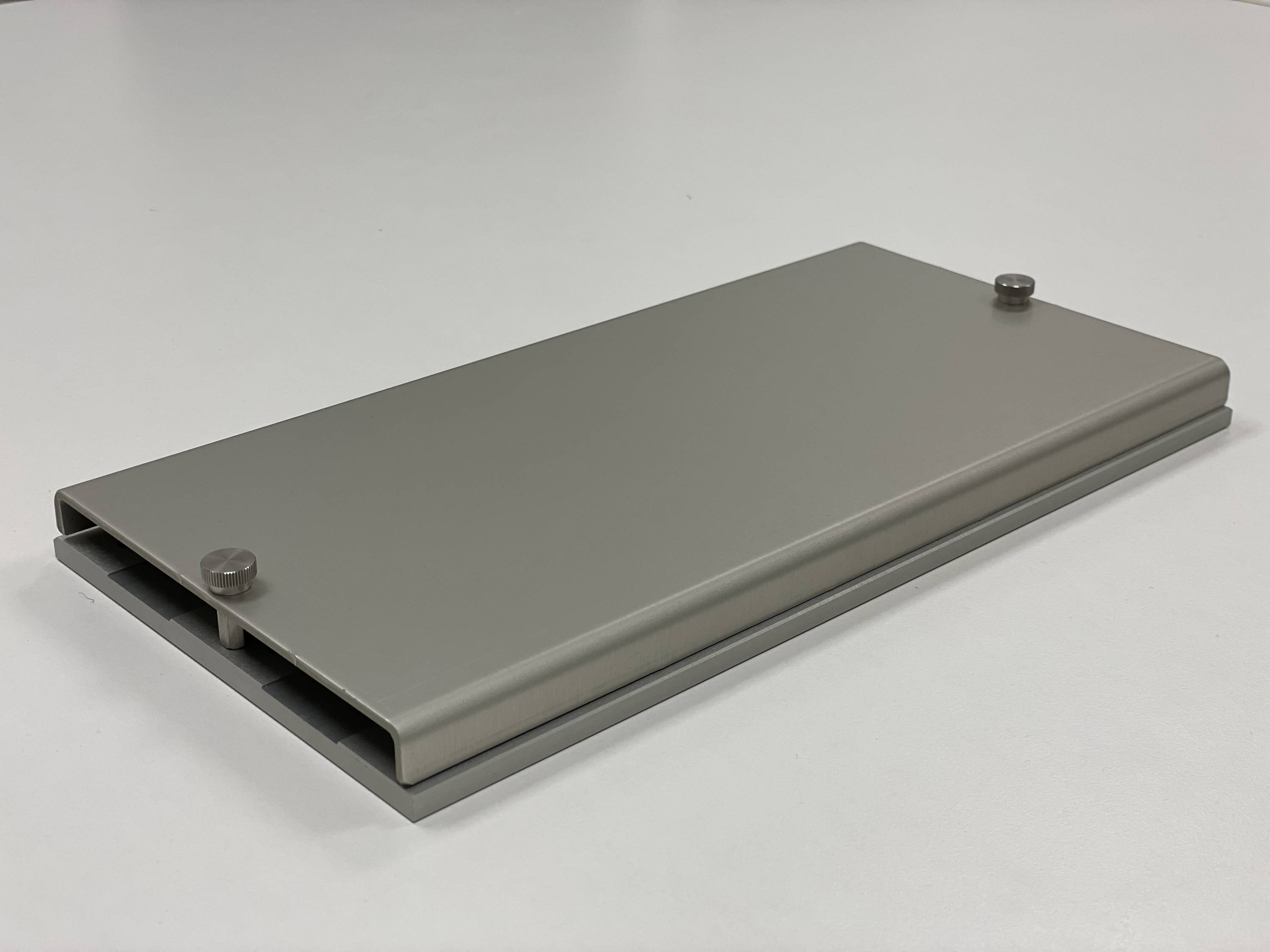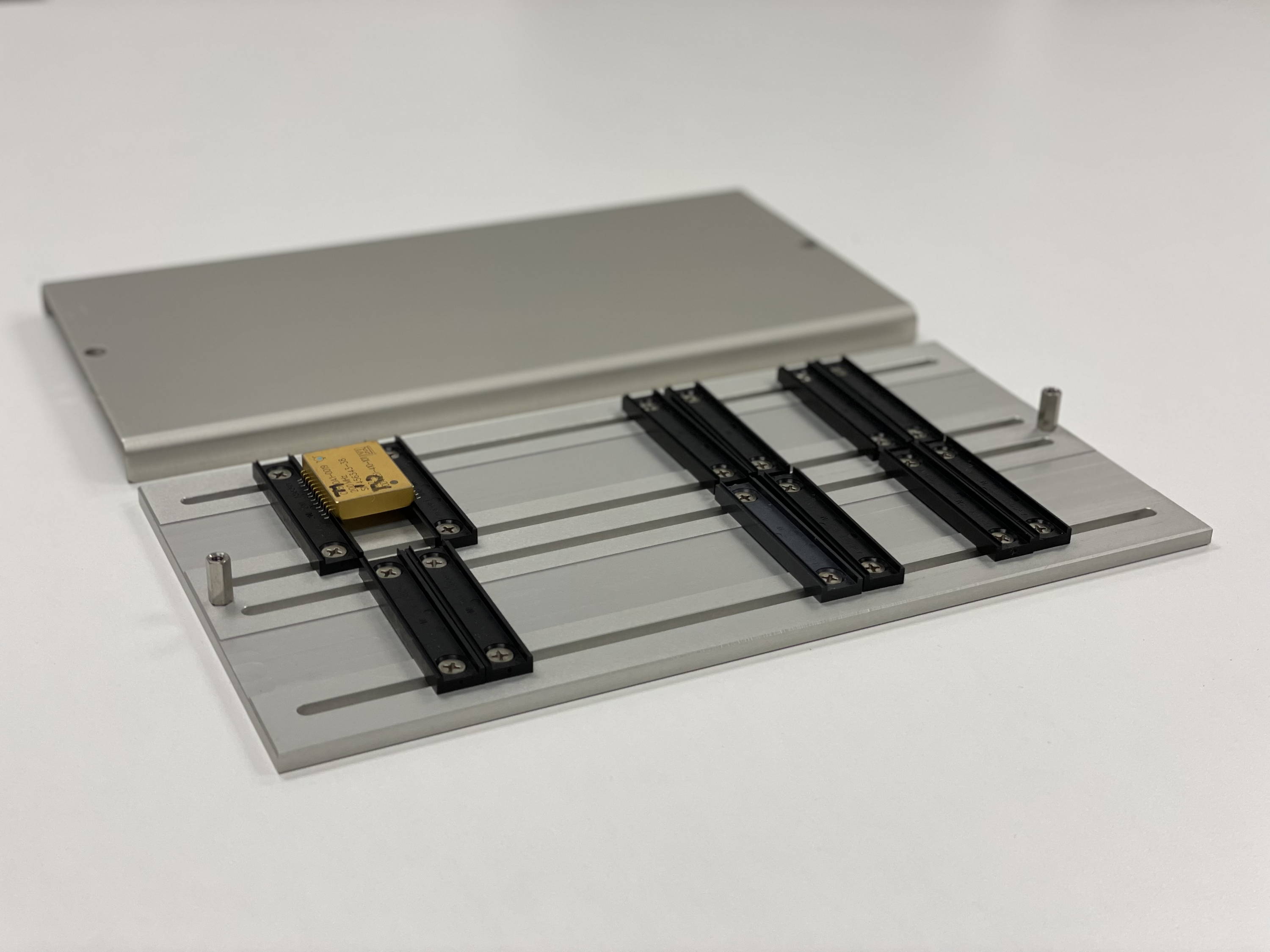 Holding, safe guarding and transporting Formed Ceramic FPGA's and or Metal Cased Hybrid SMD's can be a challenging and daunting task.
The completed SMT formed devices can be Top Brazed, Side Exit or Bottom Brazed configurations.
They can be very thin and/or very thick, have leads on one, two, three or four sides of each device. Metal cased devices can have very fragile glass to metal seals that cannot be touched for fear of cracking glass, the Hybrid device of losing its hermetic seals rendering it unusable.
The devices are all sensitive to ESD so proper precautions of this outside influence also needs to be addressed and the devices isolated when in the trays. Fancort's Adjustable Matrix Trays offer a sound and safe solution for all of these devices and their special needs.
Fancort's standard trays hold up to ten formed Quad Packs or ten Flat Packs depending on the tray ordered. Download 'Fancort's Line of Adjustable Matrix Trays' brochure.
This is a specially configured adjustable matrix tray for large Flat packs " Standard Fancort adjustable matrix trays will hold at least 10 SMT formed parts.
Fancort's Line of Adjustable Matrix Trays
| | |
| --- | --- |
| Description | Part Number |
| Tray to hold up to 10 quadpacks | AMT-6x12QP |
| Tray to hold up to 10 flatpacks | AMT-6x12FP |
| Tray to hold 10 quadpacks with bottom brazed leads | AMT-6x12QP-B |
| Closed Matrix Tray |   |
| Open Quad Pack Tray Showing Special Plungers for Bottom Brazed Devices |   |
| Tray to hold 10 flatpacks with bottom brazed leads | AMT-6x12FP-B |
| Tray to hold 10 quadpacks for pick and place machines | AMT-6x12QP-A |
| Dedicated tray to hold up to "6" formed 352 FPGAs | AMT-6X12QP-SP |
Holds most quadpacks or flatpacks up to 1-3/4" long  

Moveable plastic slides are molded in PPA with carbon fiber, with a surface Resistivity of 10E5-10E7 ohm/cm  

Supports are non-sloughing and tolerate 170ºC  

ESD foam with conductive film in the cover for cushioning and component thickness variations  

Tray and cover are extruded aluminum, finished in ESD safe, clear chromate

Optional packaging of matrix trays two options Standard :


ESD safe Pink foam and optional Non Dissipative Foam (NON ESD)

Standard unit measures 6" x 12" x 1" with cover

Thumb screws to lock the cover to the base

Patent No. 5,370225

Optional model for pick and place machines--low profile and fixed X-Y registration

Dedicated matrix trays available for storage, transport or pick and place; fabricated in aluminum

Molded JEDEC plastic trays can be machined to hold ten flatpacks or quadpacks

Optional 6" x 4" adjustable tray to hold One or two devices; a flat pack or a quad. PLEASE NOTE SPECIAL ORDER; P/N AMT-6X12/1

AMT - 6x12/1 Single Part Tray Drawing

Tacki Pack Pedestal ESD safe boxes available in 3 sizes

Standard top brazed FPGA in an adjustable matrix tray
Fancorts dedicated machined 1 up aluminum tray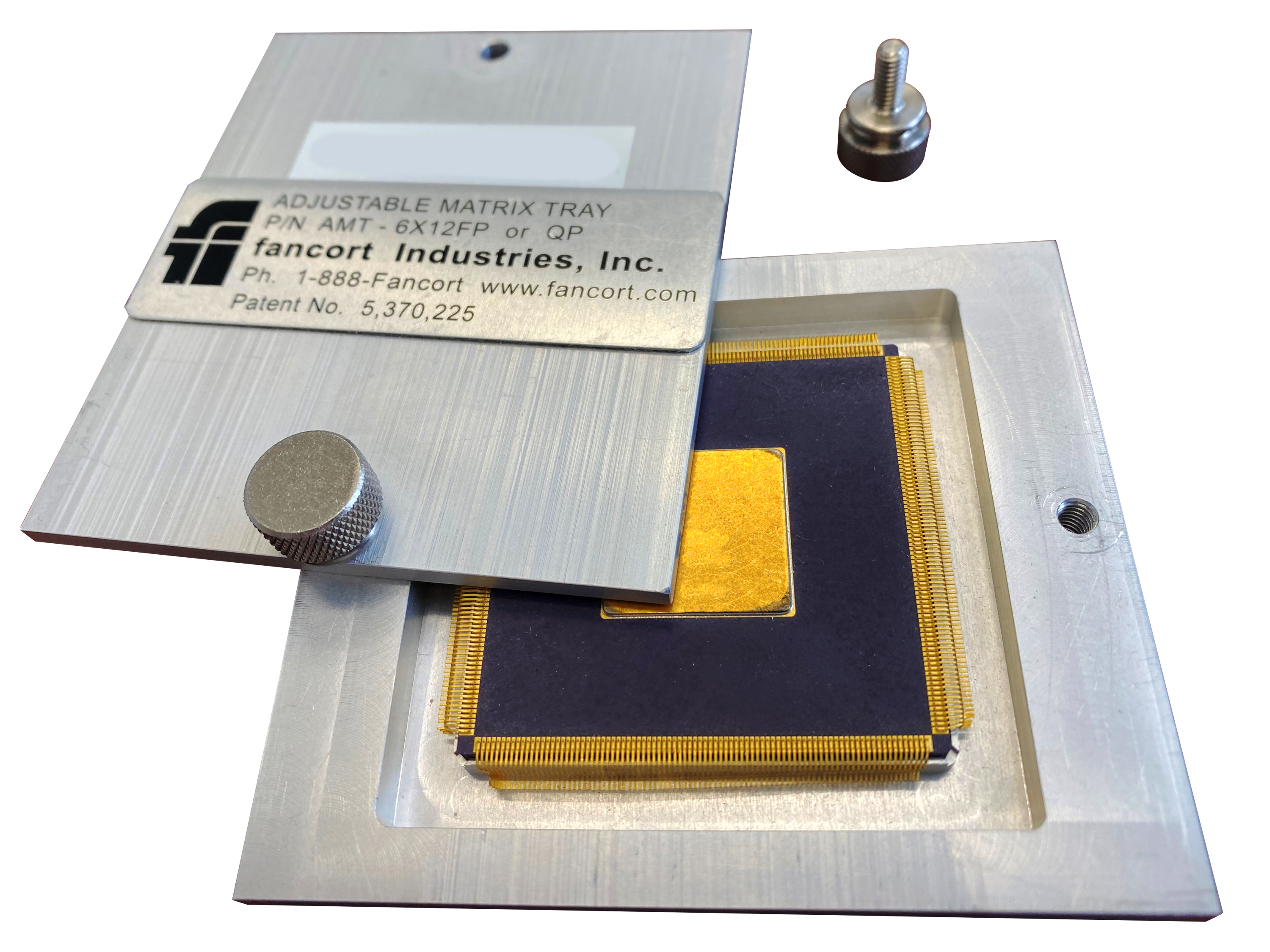 Dedicated Machined 1 Up Aluminum Tray
---
Fancort's Dedicated Machined 1 Up Aluminum Tray
Great for storage and shipping
Available in QTYs of 30+
STANDOFF MEASURING INSTRUMENT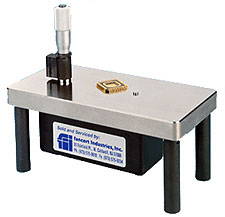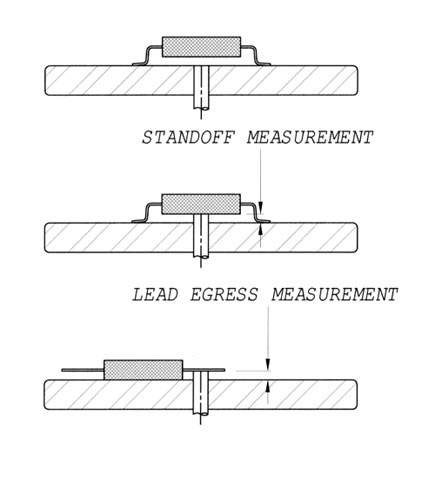 ---
PRODUCTION AIDS: STANDOFF MEASURING INSTRUMENT
The operator zeros the digital micrometer, then places a formed part over the ground pin on the ground steel surface.
The operator then turns the micrometer until the packages rotates, indicating the pin has contacted the bottom of the package. Simple and quick!
Part number HC-1
COPLANARITY INSPECTION MIRROR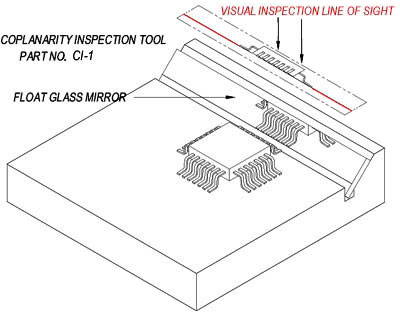 ---
Production Aids: Coplanarity Inspection Mirror
A simple device for visually inspecting the leads on a formed Gull-wing component.
Using a highly polished, float glass mirror set at a critical angle, the operator places a component on the surface of the tool and looks at the leads in the mirror.
This new inspection tool is made of tool steel, and is chrome plated. The mirror is also very effective when used in conjunction with (under) a microscope or HD video optical inspection devices. Model #CI-1 is 4 " x 4."
We can customize to fit your needs, for more information, click on the button or contact:
Robert Antonelli
rantonelli@fancort.com


(888)-326-2678 x 719