SMT FORM AND TRIM TINNING WORK CELL
SMT FORM AND TRIM TINNING WORK CELL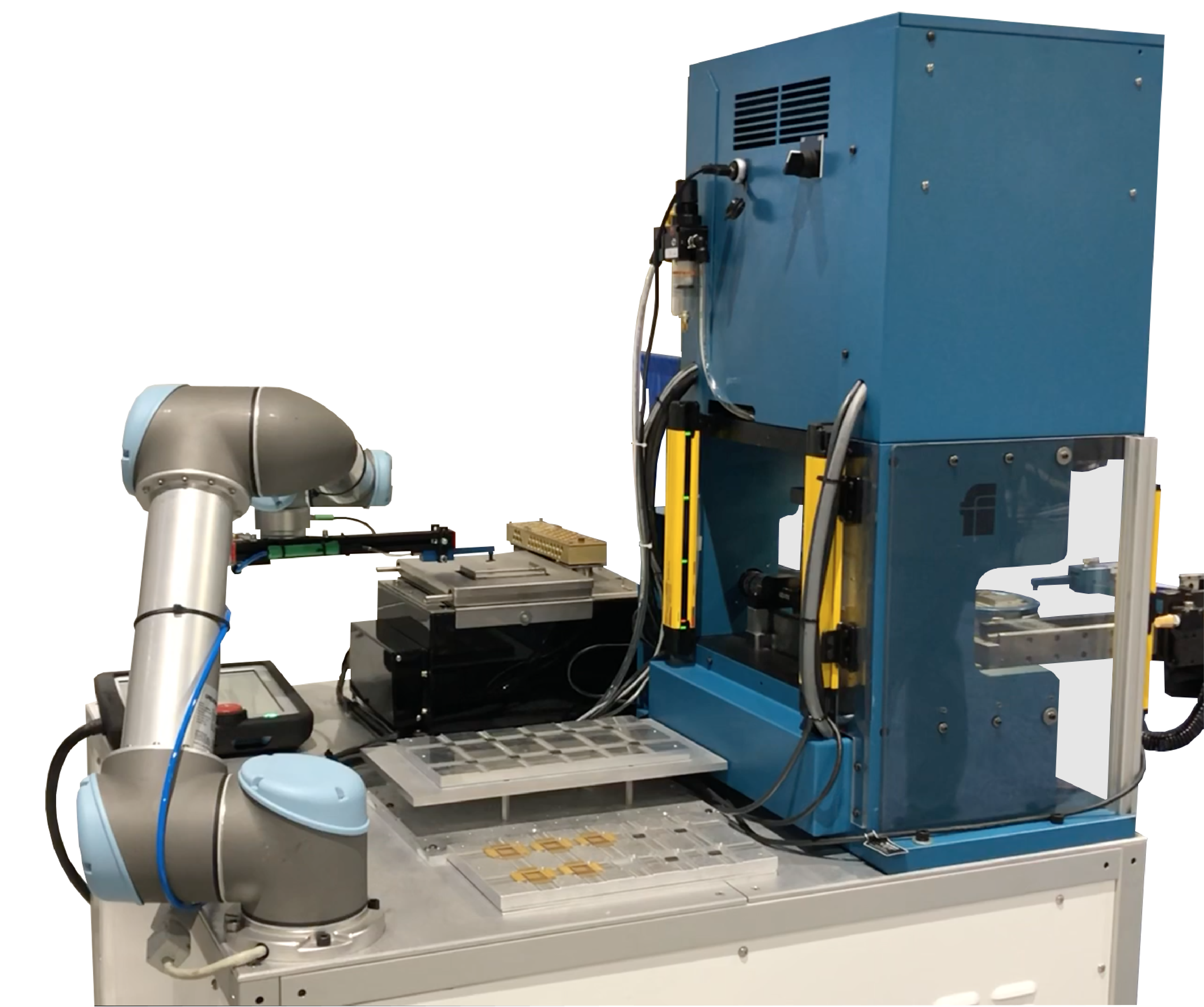 6 Axis robot automation picking from a dedicated matrix tray preforming J-STD/ Space addendum gold removal
---
High Accuracy Without Changeovers
The FLEX is a two-sided gull-wing lead forming system with automatic standoff control.
Simple changeover of die members, combined with accurate, repeatable changes in tip to tip length, can vary all the critical dimensions of most SMT footprints on a wide variety of ceramic packages.
FEATURES:
Fancort Smart Flex PC controlled SMT form and trim system.

Fancort's dynamic solder pot/s with controls of heated Nitrogen.

Fancort pre heater with thermocouple and controls.

Universal Robot for accurate placement into form and trim, tinning etc.

Sturdy Enclosure with Light curtains, built to meet the customer requirements.

Docking stations for your matrix trays.

Optional Inspection for Bridging or dimensional

compliancy.

Lead forming to Mil-STD-883K and IPC J-STD-001E-2010/April 2010.

Lead tinning is per IPC J-STD for soldering J-STD-001F module #3 and J-STD-001FS #6, Space Addendum.

Fancort is IPC J-STD-001ES CERTIFIED for tinning Space Grade flat packs and quad packs as of 18-November-2013

Automatic standoff control (B) to +/− .002" when used with the Fancort floating anvil press.

Removable die members for varying all critical dimensions such as shoulder, foot, radii and lead material thickness without removing the tool from the press.

Adjustable tip to tip length using hand control with precision ball screw with anti-backlash and digital readout.

Centering station with manual loader for higher throughput and the most accurate hands-free operation.

Patent number 4,907,628
SMARTFLEX SMT TRIM AND FORM SYSTEM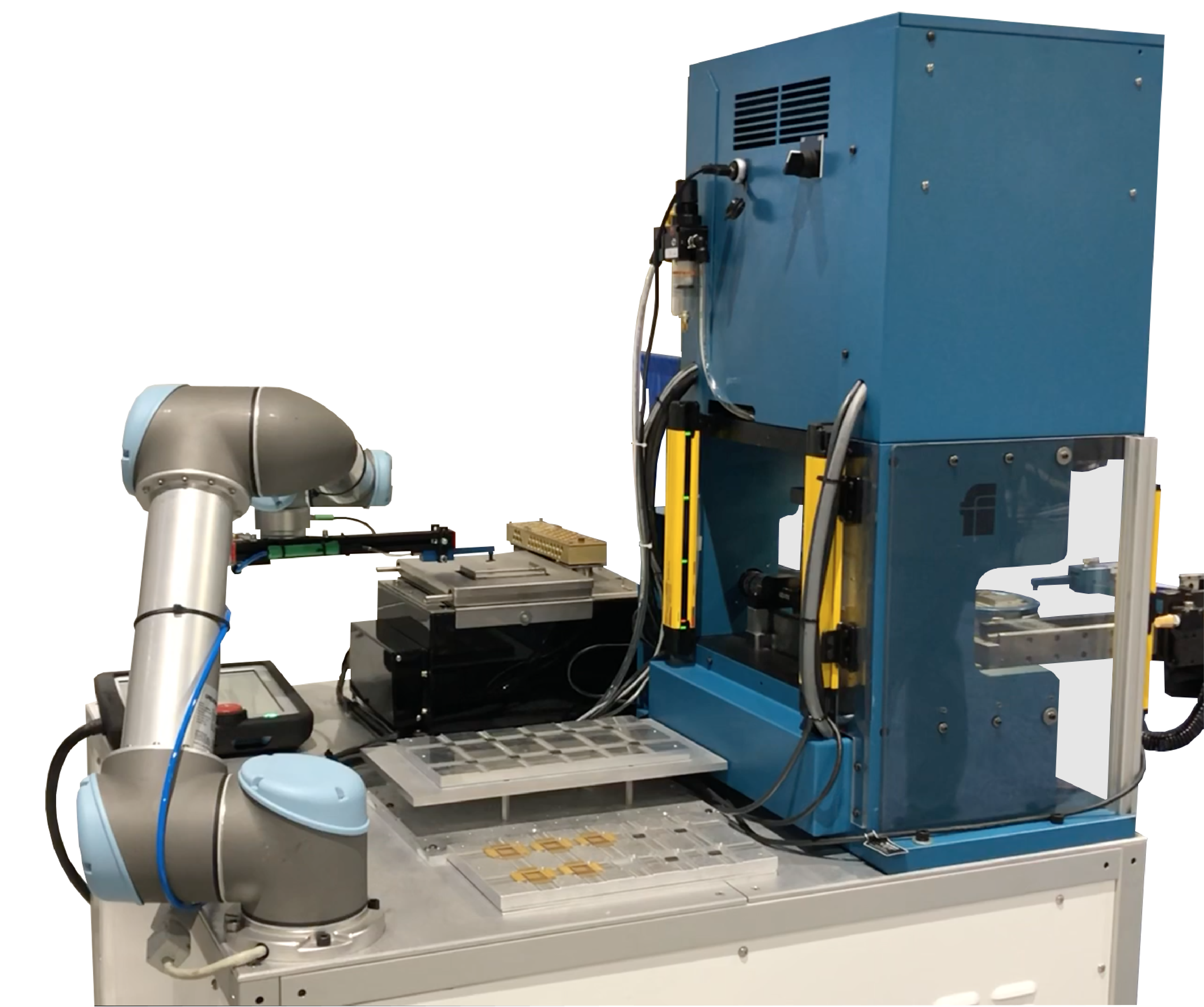 ---
SMART-FLEX SMT Trim and Form System
Fancort newest SMT offering is the SMARTFLEX an Electronic Floating Anvil FLEX System that is PLC controlled. Here are some unique features that the PLC adds to the already top of the line Automatic Standoff height control SMT Floating Anvil FLEX System.
This system will help the technician/operator make set ups easier faster and with less chance of mistakes. Plus everything will be documented and will be saved in the PLC for future use and or modification when needed.
FEATURES
Automatic set up and adjustment of the "A" Standoff height.

Automatic set up and adjustment of the "D" Tip to Tip.

SMT forming specs library, the operator can choose existing forming specs that are linked to a list of internal Flex tool members (that the customer has on hand already) and will be required to process this new or existing IC part.

SMT Development Mode. This feature will prompt the technician to enter his required forming specs and will help guide the operator to put in values that are industry standards. Once the values are accepted, the program will determine what internal tooling members will be used or have to be acquired. This unique program calculates spring back and has the Flex systems limitation included;





For example .012 "C" is the systems maximum lead thickness capability and the program will not allow a value larger than .012 to be entered or saved.

Parts library, This section will have a list of all internal Flex tool members on hand for use that the user has acquired.

Internal Flex tool members will have a Bar code ID that will identify its critical dimensions, when read with the reader provided with the system.

Internal Diagnostics, Operation manual, Factory support.
We can customize to fit your needs, for more information, click on the button or contact:
Robert Antonelli
rantonelli@fancort.com


(888)-326-2678 x 719