Trusted by the Aerospace & Defense industries for over 47 years.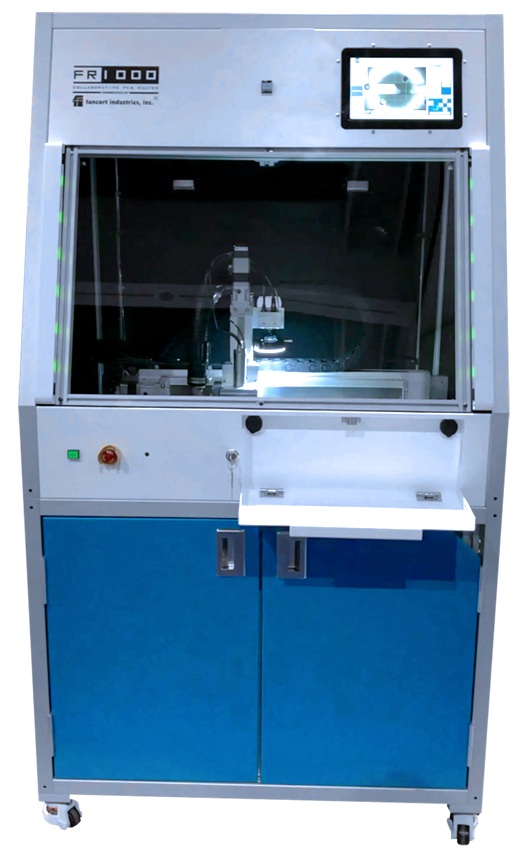 FR-1000 Batch Router
Fancort's FR-1000 stand-alone was specially designed as a low cost solution to meet medium volume PCB depaneling requirements. Capable of processing boards up to 450mm x 450mm and up to 3 mm thick.
Standard Features
• Quick release for fast bit changeover.
• Safety light curtain across the load/unload zone.
• Powerful gantry system.
• Small overall footprint.
• Vac filtering for ultra clean operation.
Technical Specs
- High accuracy/powerful 3-axis gantry robot.
- Large panel size: 450mm x 450mm.
- Configuration: X, Y, & Z axis.
- Repeatability: ±0.02mm.
- Spindle Motor: 350 Watt High Power Spindle.
- Power: 1.0 KW vacuum blower with HEPA filter.
- Touch Screen & Teach Pendant for easy programming.
Features
• High accuracy machine structure.
• Easy vision jog and teach programming.
• Vac filtering for ultra-clean operation.
• Quick bit release mechanism.
• Small Foot Print (40"x40")

Safety Features
• Full steel interlocked enclosure for noise, dust, and operator safety.
• Safety light curtain across the load/unload zone.
Options
- Dedicated Fixture Plates
- Pins available in different diameters and heights.
- QR Code Reader for traceability.
- MES Traceability and program selection.
How would your business benefit from a FR Series?
The #1 reason most people buy Fancort FR-1000 PCB Router is because they are in a high-mix production situation and the time to create dedicated fixtures is extremely long.
• You will save money in time invested for changeover than you will by using a router at double the price with the FR-1000.
• You will save plenty of time, due to its adjustable fixturing at an unbeatable price.
• Prevent rework and scrap parts during setup with the exclusive production Simulation to optimize routing accuracy feature
• Your routing process will be perfect with the fiducial Recognition/correction feature included in all of our models and ±0.02mm repeatability
• Your operators will be safe due to all the safety features included such as e-stop and safety light curtains
• No mess! – With a powerful 1 KW Dust vacuum you will save the pain to clean after the routing process
• Flexibility – Cut anything you need in the 450mm x 450mm working area
• You will save space in your layout - Record-breaking footprint ( 40" x 40 " )
Q: How does the FR MAG fixture work?
A: The FR 1000 MAG fixture is designed to allow boards to be supported by magnetic pins that can be placed manually or robotically. Everything is referenced from the edge of the fixture so changeover is fast and highly reproducible.
Q: Will the MAG fixture work for all my boards?
A: The standard FR 1000 machines come standard with 110 magnetic based and replaceable pins cut to a desired slot width. For most high mix manufacturers this setup should cover a large majority or boards that need to be depaneled. Special dedicated magnetic pieces or even a dedicated fixture is easily added to the standard MAG fixture extending the fixture to cover nearly all boards configurations.
Q: Does the FR-1000 come with fiducial correction camera?
A: Yes, its standard on every FR machine we build.
Q: Where is the FR-1000 built?
A: Fancort Headquarters- West Caldwell, NJ.
Q: What is the work area of the FR-1000?
A: 450x450mm
Q: Is offline programming available?
A: Yes, with the optional PC program you can program the machine with vector files such as Gerber or DWG files.
Q: What is the footprint of the machine?
A: 40" X 40"
Q: Does the FR-1000 come with a built in vacuum?
A: Yes, it comes with an integrated 1 Kw vacuum pump.
Q: What type of spindle is provided with the machine?
A: It comes standard with a high powered 60,000 RPM, 350 Watt, HSK spindle with quick change collet.
Q: How does the FR-1000 compare in cost to a desktop router?
A: Its nearly the same cost as comparatively equipped (enclosure with light curtain, fiducial correction, high power vacuum, Magnetic Fixture) desktop machine.
Please refer to the table below to compare differences
and applications that Fancort™ PCB Routers offer.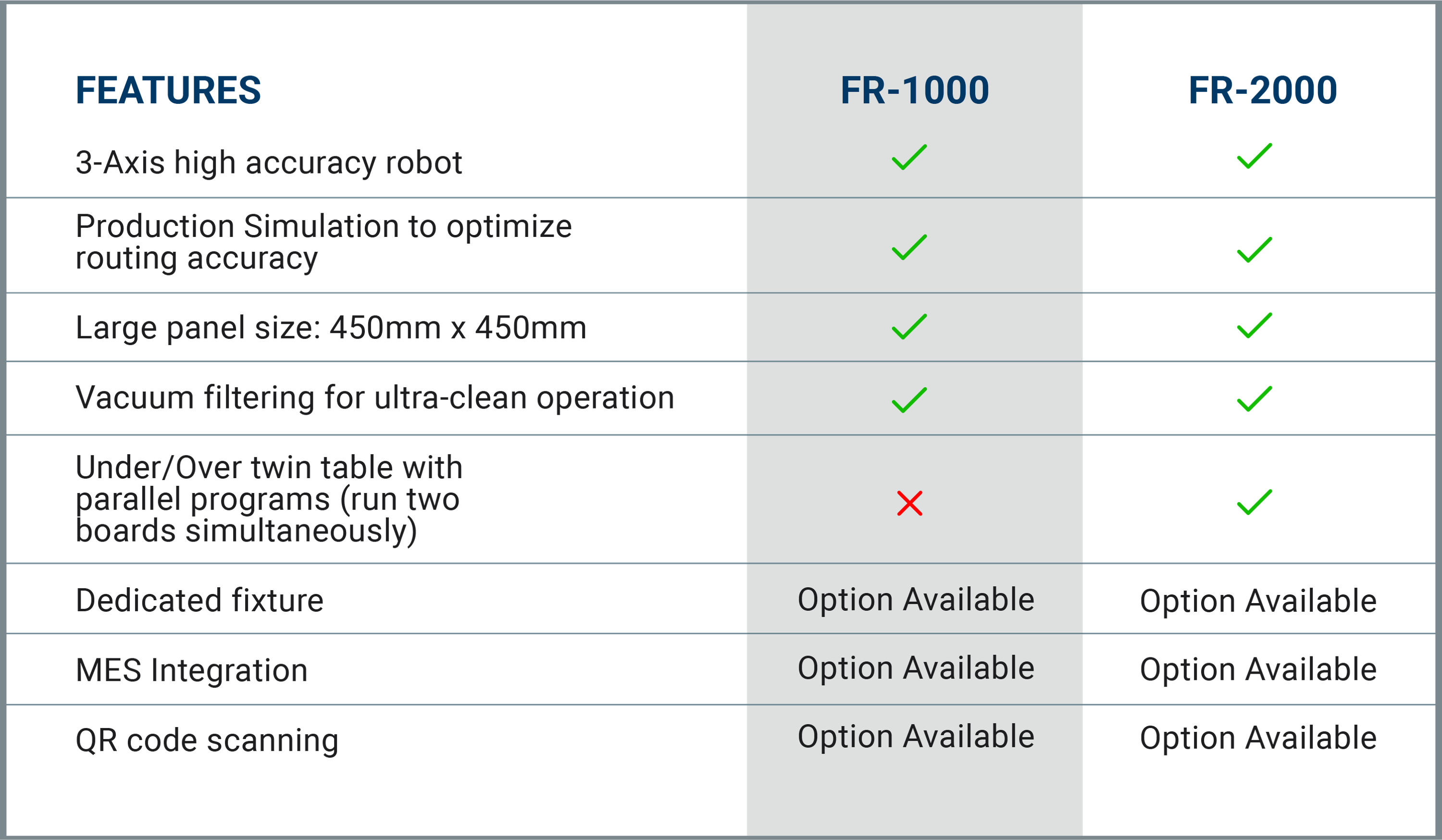 WHICH IS THE BEST
ROUTER FOR YOU?
We can customize to fit your needs, for more information,
click on the button or contact: