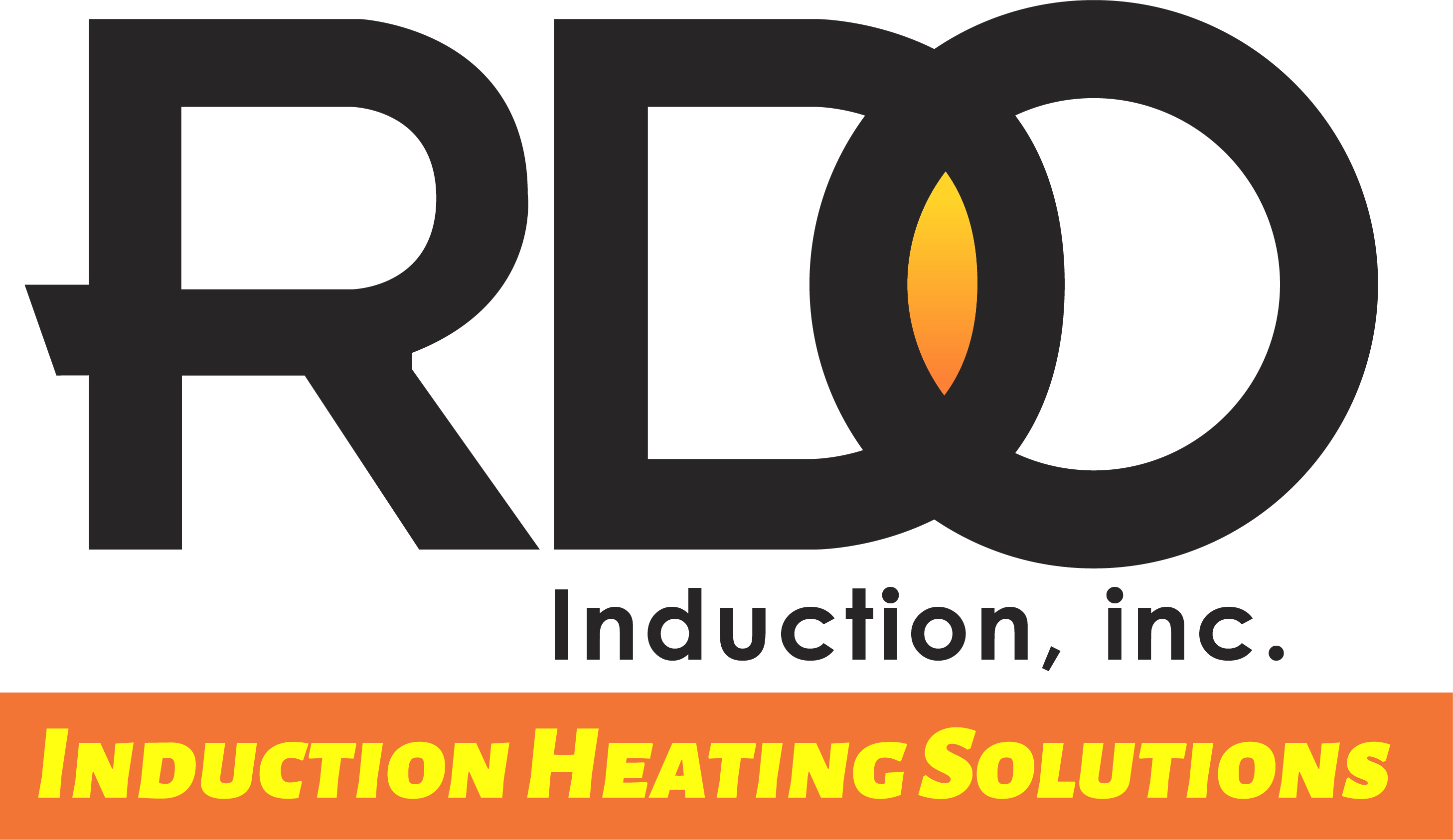 A wholly-owned sister company to Fancort.
Fancort Industries - Trusted by the Aerospace & Defense Industry for over 47 years

INDUCTION SOLDERING
& BRAZING EQUIPMENT

---
Induction brazing & soldering equipment ideal for a wide range of applications
Induction soldering and brazing is the introduction of electromagnetic fields into metallic bodies in order to heat joints between components and melting an alloy with a lower melting temperature than the component parts. Induction soldering and brazing machines form higher-quality, air, and watertight joints with less oxidation and cleaning than joints made with flame heating technology. RDO offers induction soldering and brazing equipment that is ideal for a wide range of applications.
Induction brazing & soldering equipment
Our Induction Heating Models HU2000 and HU5000 are our newest models available in 2.0 and 5.0kW of power working in High Frequency (250kHz-1.0MHz). These systems are ideal for components requiring precision heat zones, soldering and brazing of small parts such as electronic components, and Radio Frequency (RF) connectors. The system comes standard with a compact heating head and can be configured with up to two heating heads. The model HU brings the future of advanced system controllability into the customers' hands today.
Model HFI 3kW thru 25kW with a 135-400 kHz frequency range, along with the DuraPower Series 5kW thru 25kW systems with a 20-400 kHz frequency range are used for the soldering and brazing of larger parts. With this piece of induction soldering equipment, the user can create multi-step heat ramp cycles, which will allow the user to bring the temperature up quickly, then lower the power/heat to allow the solder/braze alloy to properly flow without overheating the parts being joined. All machines & systems can also be controlled with infrared temperature controls for precise temperature control of the brazing/solder process.
Please select a model from the TAB panel below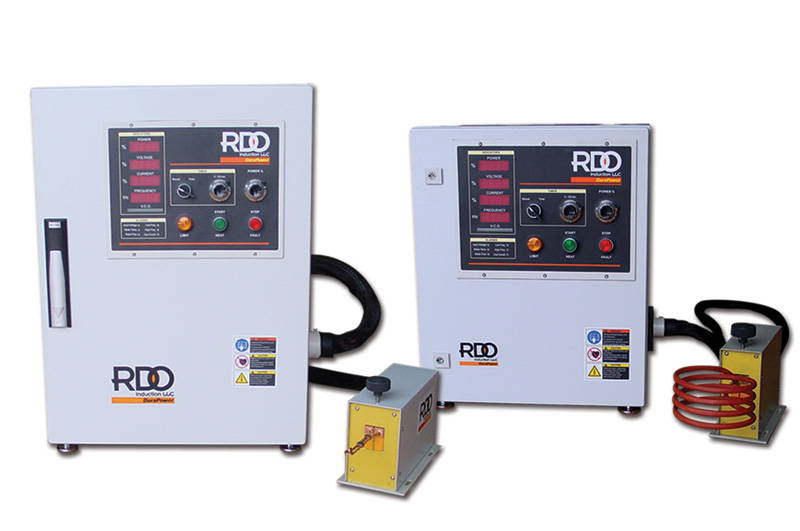 ---
RDO's DuraPower Induction Heating power supplies are our most complete and advanced product lines. We offer our DuraPower LP systems with power supplies from 5-25kW of output power and 20-400kHz frequency ranges.
Our DuraPower HP systems are DuraPower Induction Heatingavailable with power supplies from 50-500kW in output power and frequency ranges from 1-50 kHz. Induction Heating power supplies are produced with the latest in either MOSFET or IGBT solid state circuitry and are designed with unparalleled circuit protection. All induction power supplies are standard equipped with Remote Heat Stations with quick disconnect load coil devices and 8 ft of dry leads, with custom lead lengths upon request. Induction power supplies have also greatly simplified the tuning process by eliminating multi-tap ratio transformers. Upon Request, we can configure DuraPower with custom frequency ranges or power outputs based on customer requirements.
DuraPower Mobile Induction Heating In addition to our standard Induction Heating power supplies, we can supply the DuraPower mobile generators with a Hand Held Heat station for a wide variety of induction heating applications, where the user needs to bring the heat station to the work instead of the work being brought to the heat station. These mobile hand-held heat stations are ideal for a wide variety of manual applications and are easy to mount for automated operations. The power supplies range from 5-50kW of output power and 10-400 kHz frequency ranges.
---
DURAPOWER LP SERIES SPECIFICATIONS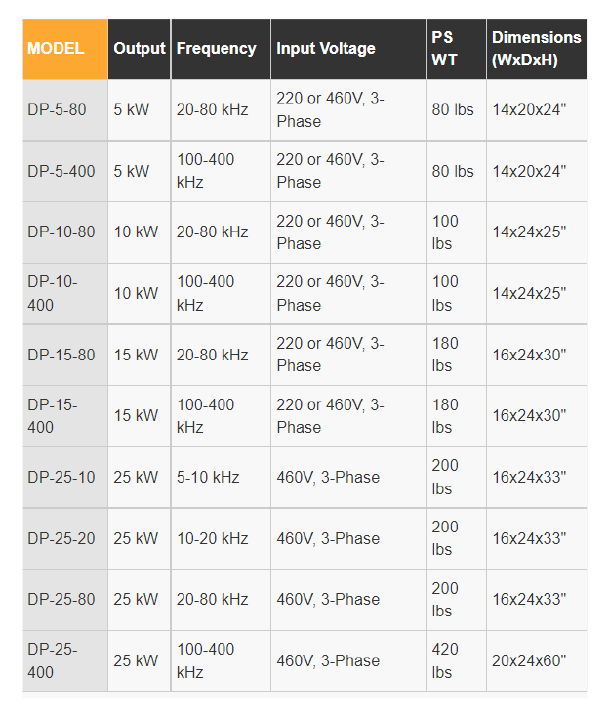 DURAPOWER HP SERIES SPECIFICATIONS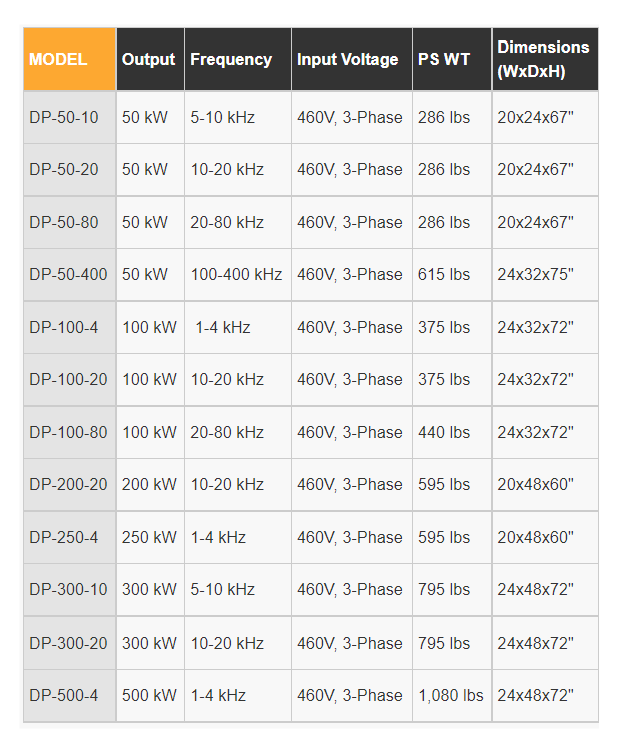 DURAPOWER MOBILE SERIES SPECIFICATIONS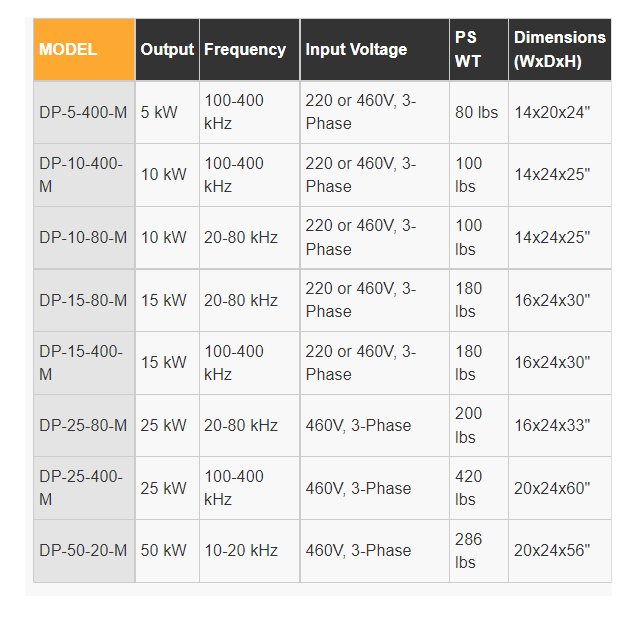 LFI-HFI INDUCTION POWER SUPPLIES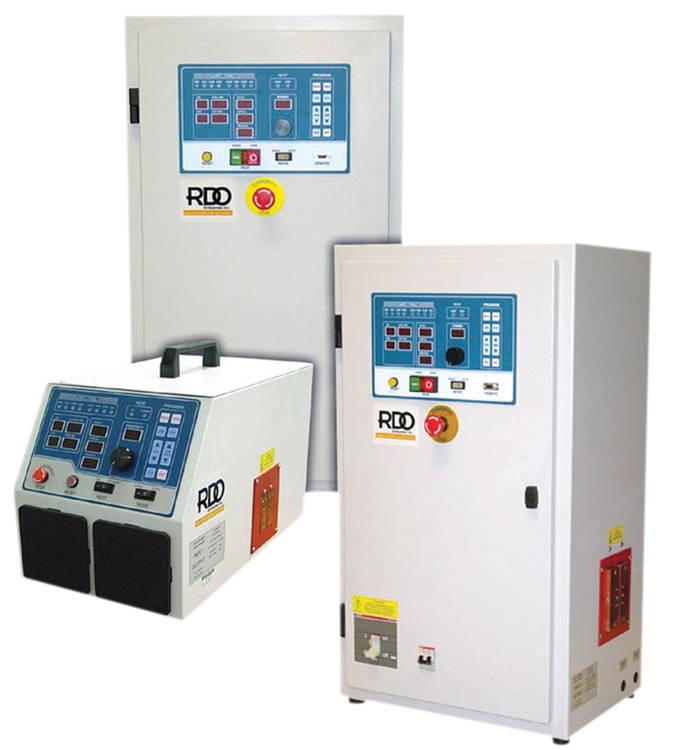 ---
Model LFI / HFI induction power supplies
The LFI and HFI series of power supplies offer a wide range of frequencies (LFI-35-100 kHz and HFI-135-400 kHz) in power from 3.0 to 100 kW, which correlates to technical effectiveness in a variety of customer applications. Designed with an adjustable tank capacitance and multi-tap output transformer, the LFI/HFI systems are flexible and reliable to meet your most demanding manufacturing conditions.
High-frequency induction heating model features
• Modern Compact Design: suitable for a wide range of applications with its rugged, reliable construction. It meets demanding conditions imposed by high production processes
• Systems are rated for 100% Duty Cycles
• Highly Efficient MOSFET based Solid State Circuitry
• Broad frequency range; 35-110 kHz (LFI) and 135-400 kHz (HFI)
• Trouble free tuning to a variety of loads
• Remote Interface with 0-5V and/or 4-20mA input
• Input cooling water to 105°F
• Power Supply Range from 3kW to 120kW Output Power
• Standard User Interface for connection with external devices (PCL) monitoring and automation integration
• User programming allows user to set up to 12 separate jobs with up to 25 steps per job
Diagnostic systems & meter display
All RDO Induction Model LFI/HFI Induction Heating Systems are equipped with Diagnostic Limit Indicators for Voltage, Power, Frequency and Current, along with Trip Indicators for Frequency, Current, Over Temperature, Door/Cabinet Interlock and Water pressure. These indicators are located on the front panel for ease of diagnostic control. All RDO Induction Model LFI/HFI Induction Heating Systems are also equipped with a full scale Meter Display, which allows the user to monitor Power Output, Voltage, Frequency and Current.
Heating applications for the RDO Induction LFI/HFI family of power supplies include Induction Brazing, Induction Soldering, Hardening, Induction Annealing, Induction Bonding, Induction Case hardening, Induction Wire & Cable processing, Getter Firing, Hot Heading/Forming, Induction Shrink Fitting, Catheter Tipping and Induction Stress Relieving.
---
HIGH FREQUENCY MODEL LFI SYSTEM SPECIFICATIONS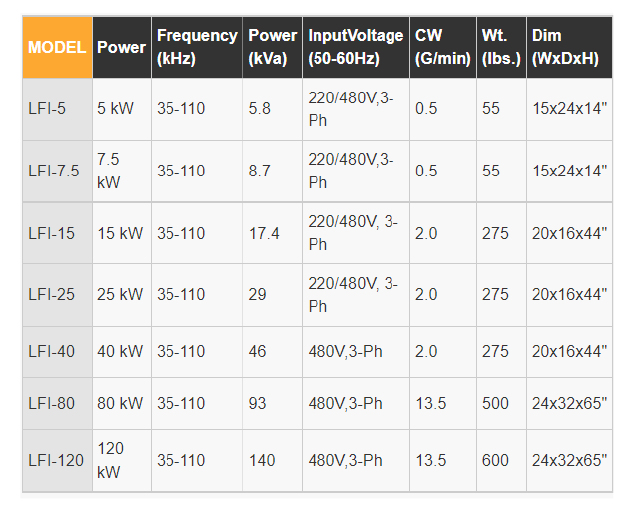 MODEL HFI SYSTEM SPECIFICATIONS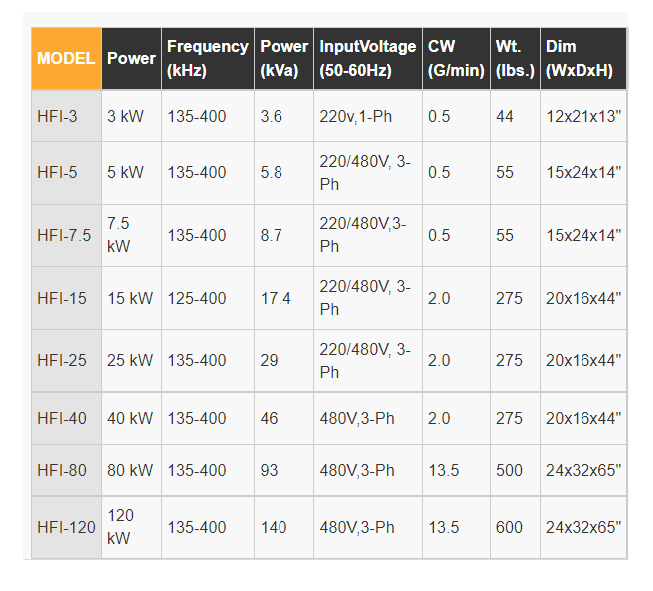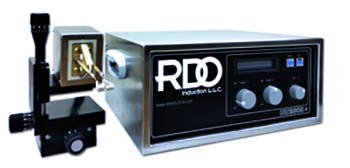 ---
The HU Series induction power supplies is a highly versatile, repeatable, and reliable power supply for a wide range of process heating applications, but excels in applications where small, precise heat zones are required. The system is produced with a highly efficient Series Parallel circuit, which is connected to a small heat station with dry, Litz cables. The heating head has a power capacitor mounted in the head that can be easily changed out with different value capacitors to find the optimal operating frequency. The HU Series is available in a 2kW and 5kW power supply and can be supplied in two output frequency ranges – 250-550 kHz and 550 kHz to 1.0 MHz.
The HU series induction power supplies are ideal for the precision heating, soldering, brazing of small components in bench-top or automated applications. Major applications include the soldering of electronic components, wire harness assemblies, and RF cable connectors. This HU induction brazing system is also used for the brazing of small assemblies, along with carbide tools and saw blades, not to mention a wide array of heat treatments and precision catheter tipping applications.
HU SERIES FEATURES
• 2kW or 5kW Power Supplies
• 250-550 kHz or 550 kHz-1.0 MHz Frequency Ranges
• Available with 1 or 2 Heat Stations (Dual Heat Station system cannot fire simultaneously)
• Advanced Microprocessor Control
• Rated for 100% Duty Cycle Heating
• Trouble Free Tuning & Set Up
• Standard 9 ft. (3m) leads between the power supply and heat station
• Optional Interface (RS232, Profibus or Profinet)
• Optional 3-axis support for exact positioning of induction coil
---
MODEL HU SYSTEM SPECIFICATIONS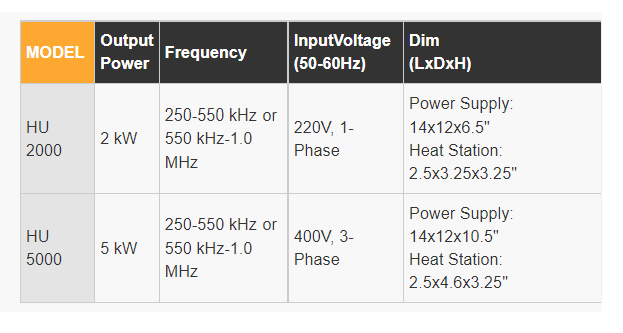 SINUS INDUCTION GENERATORS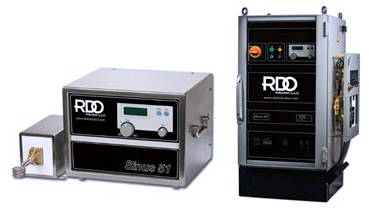 ---
The Sinus High Frequency Induction Generators are available in 5 to 25kW and are available in frequency ranges from 500-2000 kHz, making them ideal for high-frequency skin effect or surface heating, precise heating of small parts, and tight heat zones. The systems are produced from the latest in solid-state MOSFET technology. Remote heat stations allow for bench-top process in tight spaces and are easily integrated into automated environments.
System features
• Available in 5kW, 10kW and 25kW of power
• Frequency Ranges of 500-1000 kHz and 1000-2000 kHz
• Solid-state MOSFET Technology
• 100% Duty Cycle
• Standard remote heat station with flex cable connection
• I/O interface for External Control
• Compact design
• Systems can be equipped with two heat stations that can be activated alternately
• Optional Interfaces (Profibus, Profinet and RS232)
• Optional infrared pyrometer connection

---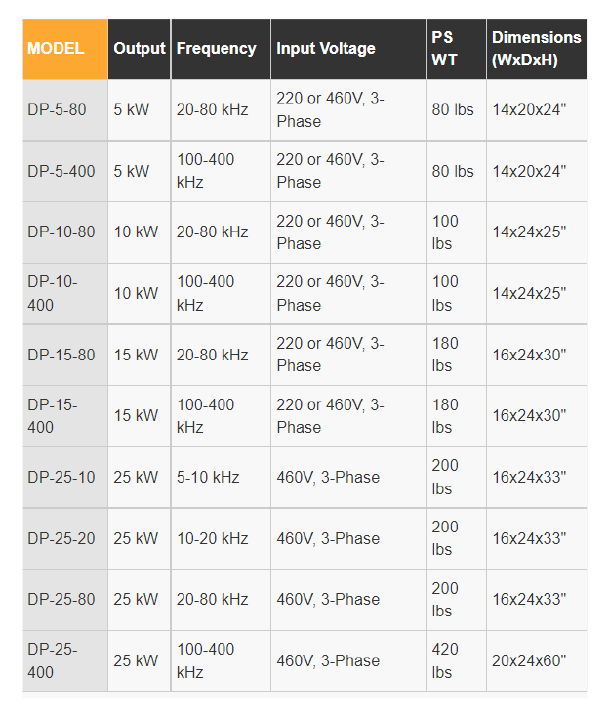 Type N Connector Induction Soldering
---
DESCRIPTION
Induction Soldering of Type N RF Connectors.

Induction Soldering Cell - Fuse Assembly

---
DESCRIPTION
RDO 3kW Induction Heating system being used in an induction soldering cell for precision fuse assemblies. Using a 1.5-2.0mm Inductor this is ideal for a vast array of precision induction heating applications.
Induction Soldering Wire to a Connector

---
DESCRIPTION
Lab test showing the soldering of 2 wires into a brass connector using a HU2000 Induction power supply.

Induction Soldering-Brazing Waveguides

---
DESCRIPTION
Lab Tests showing the soldering and brazing of common wave guide assemblies with our DuraPower 5kW induction power supply.

Automated Induction Brazing - Copper Breaker Bars

---
DESCRIPTION
Induction Heating is used in a wide range of industrial brazing applications for low and high volume brazing. In this video you will view the induction brazing of silver contacts to a copper breaker bar.

Induction Soldering RF Cable Assemblies


---
DESCRIPTION
RDO Induction systems are ideal for the soldering of many types of RF Cable assemblies, including SMA, Type N, etc. Due to the ideal 500 kHz operating frequency and the small precision heat zones that can be created, these systems are ideal for the precision soldering and brazing of small parts.


---

Download Induction Soldering Literature