FANCORT UNIVERSAL ENCLOSURES
Trusted by the Aerospace & Defense Industry for over 47 years

---
Introducing Fancort´s Universal Platform (UE1). Highly flexible and productive machine designed for a range of batch processes. Comfortable, productive, and most importantly Collaborative Ready when paired with a machine attendance robot.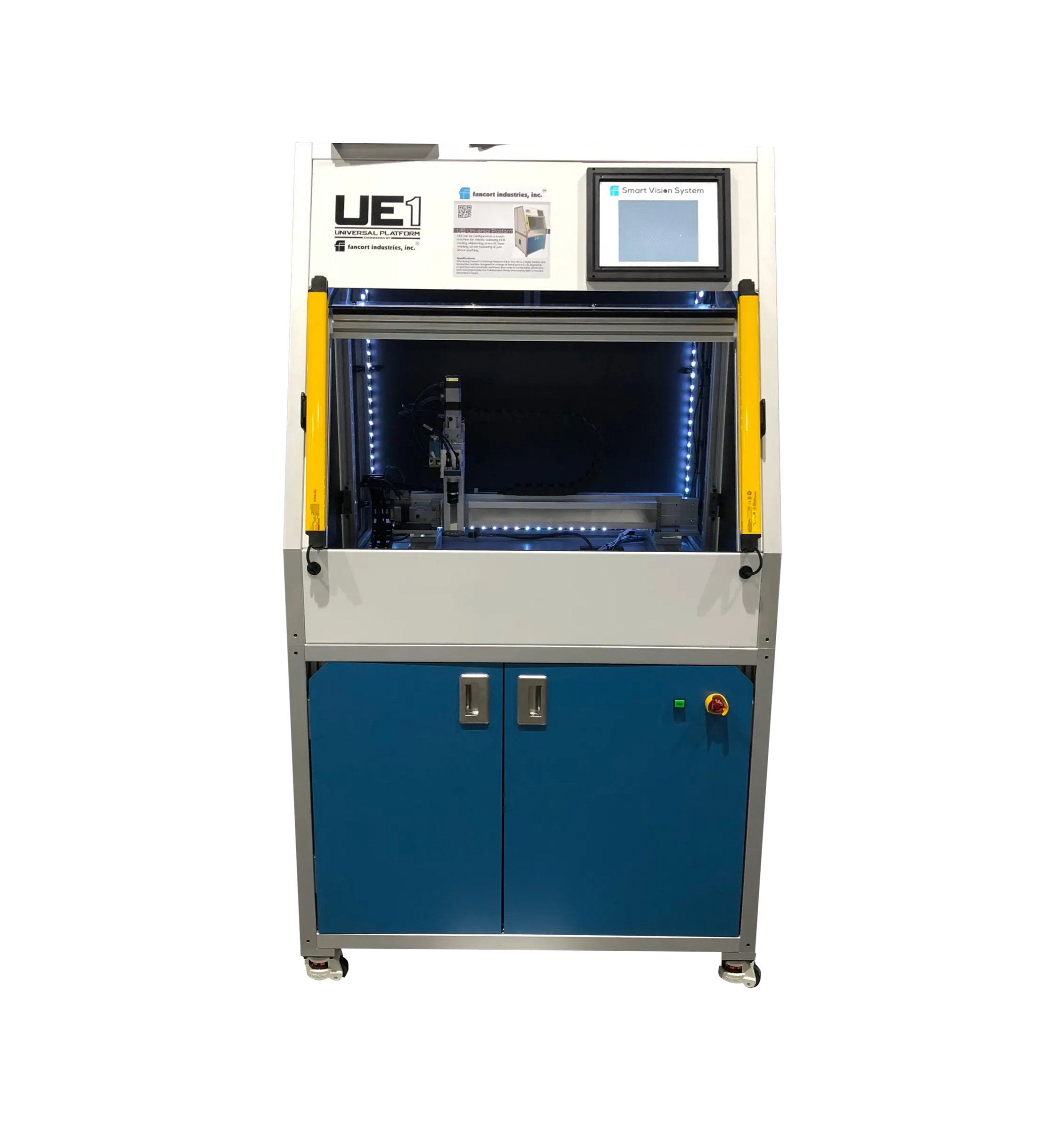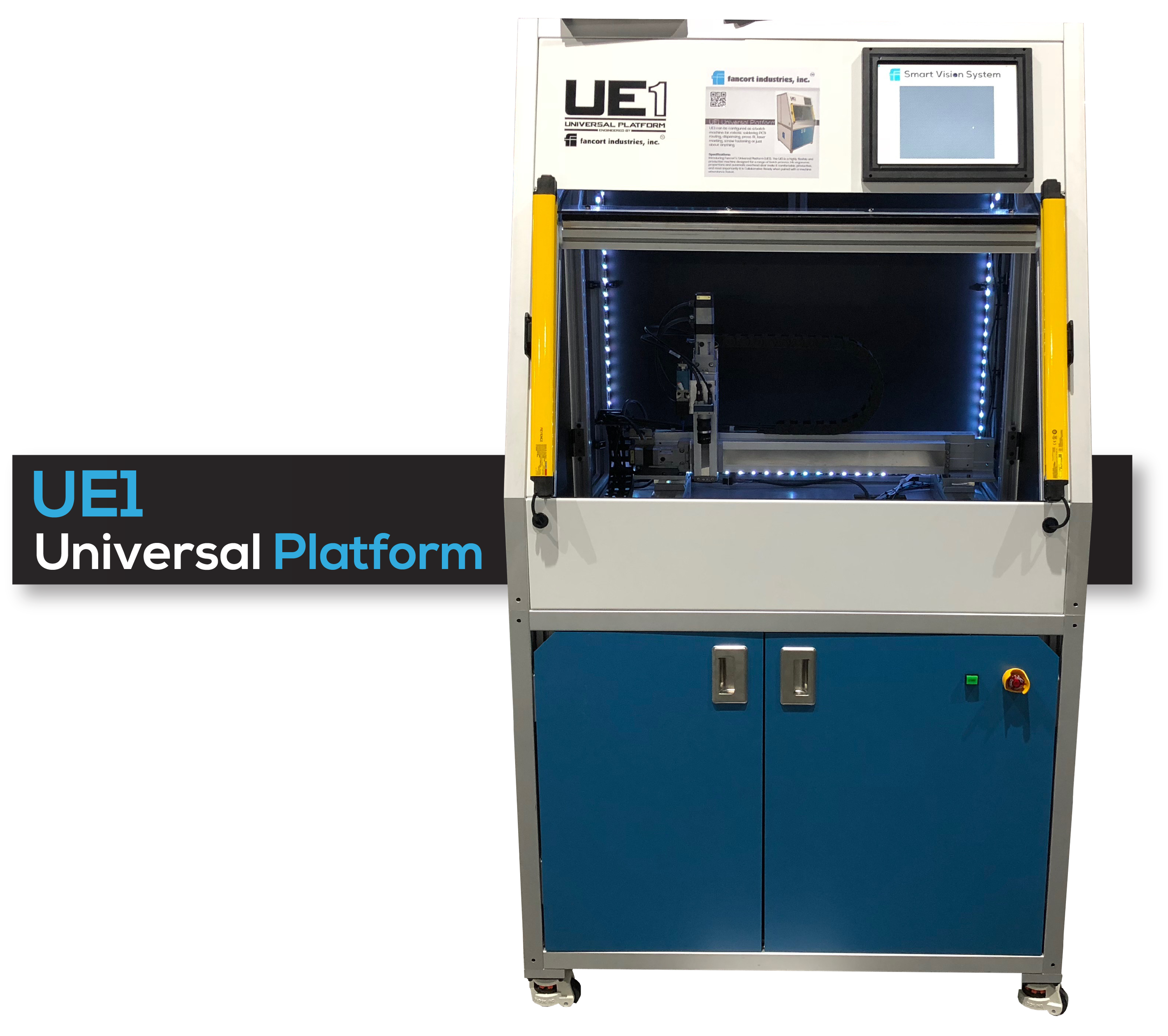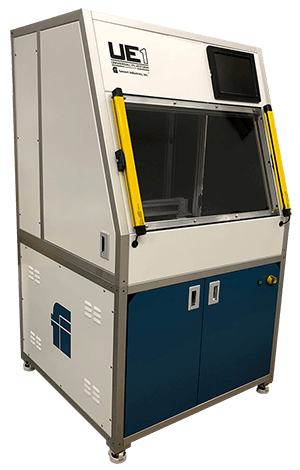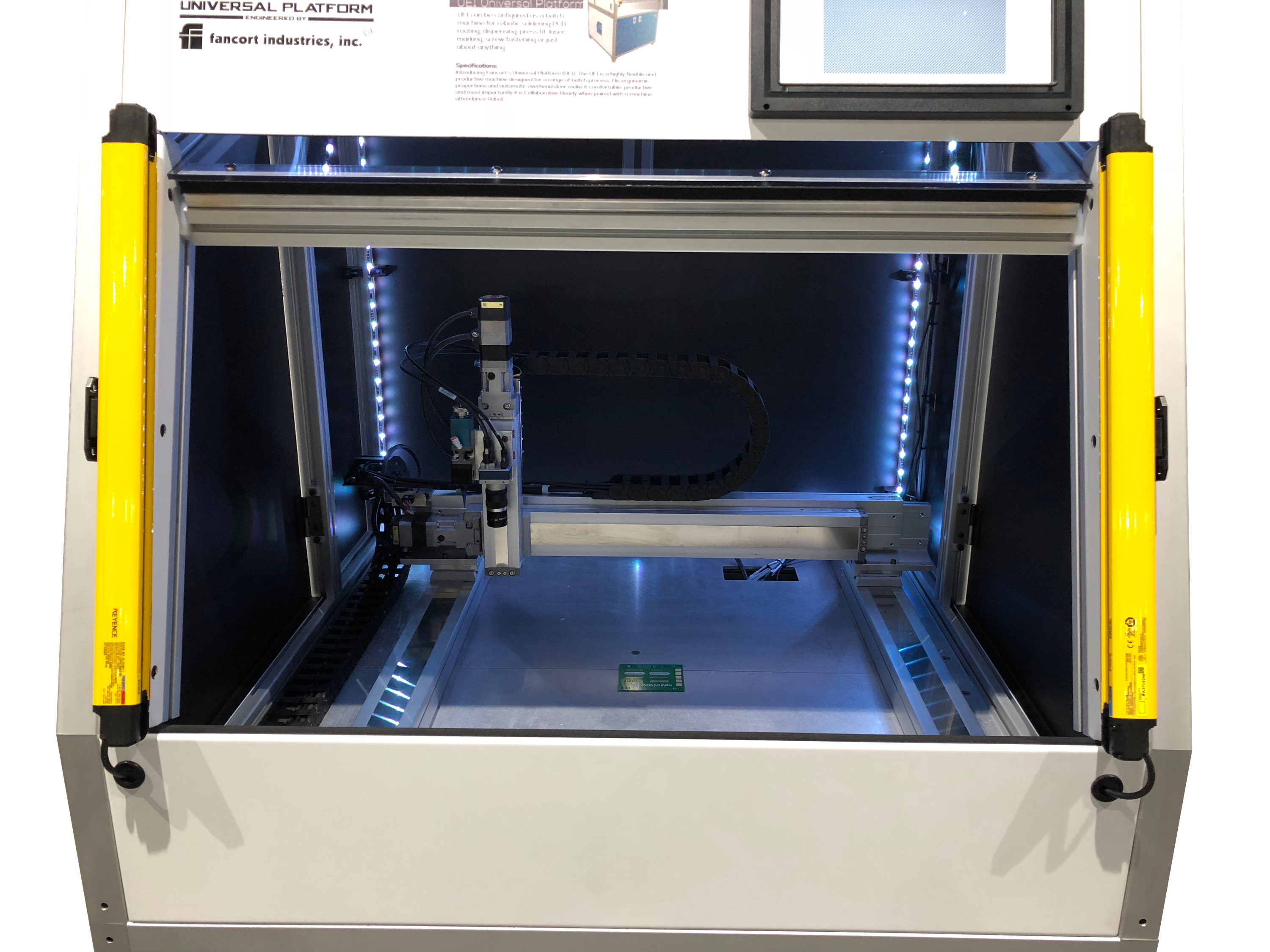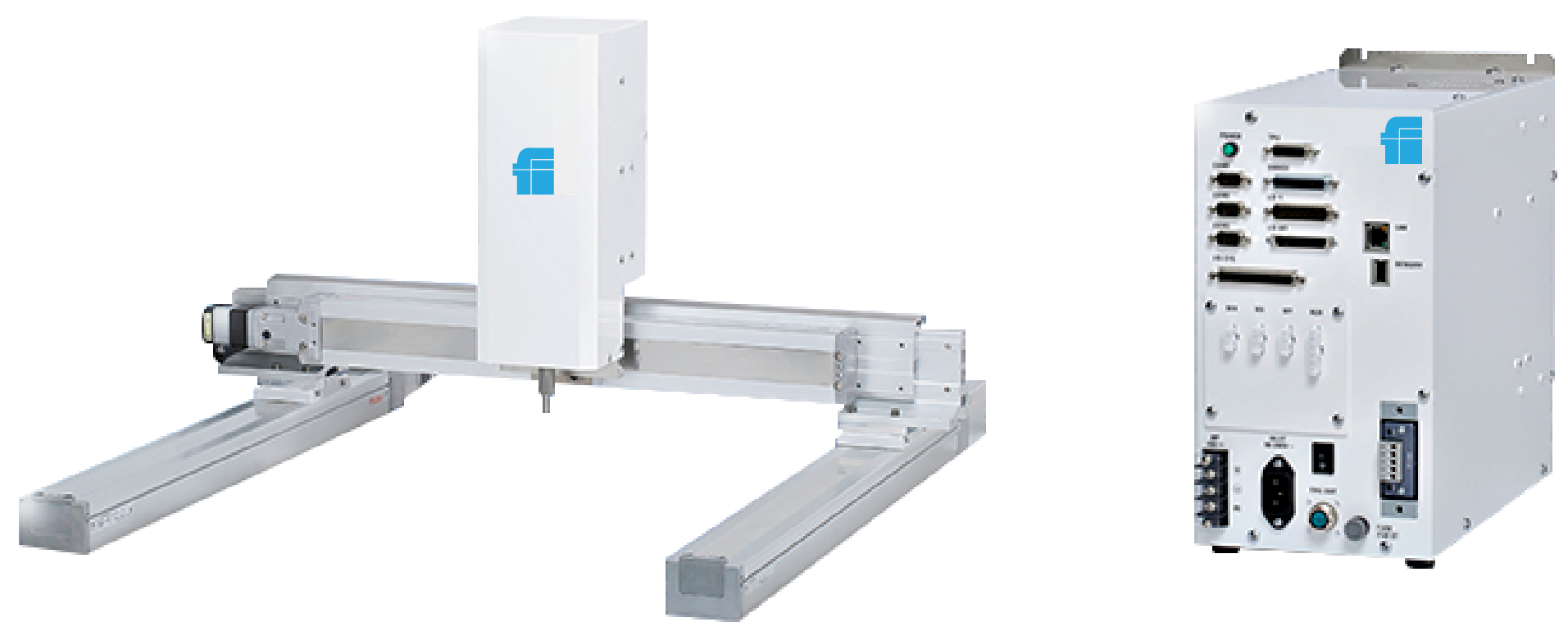 ---
UE1 can be configured as a batch machine for robotic soldering, PCB routing, dispensing, press fit, laser marking, screw fastening or just about anything.
Multi-functional Robots
The enclosure can safely house multi-functional gantry and desktop robots which are compatible with off-line programing and Gerber data file import via optional PC software.
Vision Equipped
UE1 comes equipped with an on-board PC based flexible machine vision system which can be configured to perform fiducial alignment, bar code reading, dimensional inspection, pattern recognition based quality checks.
Industrial Touch Screen GUI
Standard touch screen interface makes programing the vision system straight forward with the ability to extend the machine desktop onto any windows 10 equipped laptop or PC.
Industrial Teach Pendant
Robot motion and job functions are easily configure via industrial teach pendant.
Performance Specs
500 mm x 600mm x 200mm work area, up to 8kg payloads, speeds up 800 mm/s, 3D linear and arc interpolation motion, up to 999 programs, up to 16 input/16outputs, USB memory for teaching and data saving, built in 24v I/O power supply.
---
Number of Axes

3 Axes Synchronous Control

Stroke

X Axis (mm)

300/400/500/600

Y Axis (mm)

300/400/500

Z Axis (mm)

50/100/150/200

R Axis (deg)

-

Driver Motor

 

Feedback Control

X Axis

Y Axis

Z Axis

R Axis

-

Maximum Portable Lead

Tool (kg)

8

Maximum Speed


< PTP Movement > *1

X-Axis




Stroke

300




400

500




600

X-Axis(mm/s)

700

800

Y-Axis(mm/s)

800

Z-Axis(mm/s)

400

R-Axis(deg/s)

-

R-Axis Acceptable Moment of Inertia (kg ` cm2)

-

Repeatability (mm)*2

X Axis (mm)

±0.02

Y Axis (mm)

±0.02

Z Axis (mm)

±0.02

R Axis (deg)

-

 

Robot

W:Y-Axis Stroke + 426




D:X-Axis Stroke + 309




H:Z-Axis Stroke + 357

Controller

170 x 310 x 300

Mass (kg)

Robot

Varies depending upon stroke combination

Controller

7.5
---
We can customize to fit your needs, for more information, click on the button or contact: